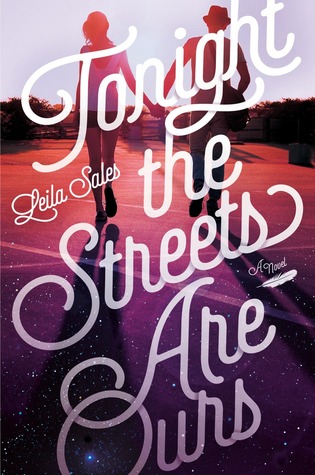 Title:
Tonight the Streets Are Ours
Author: Leila Sales
Publisher: Farrar, Straus and Giroux
Rating: 3/5 Stars
Hardcover, 342 Pages
Published September 2015
Summary: Recklessly loyal.

That's how seventeen-year-old Arden Huntley has always thought of herself. Caring for her loved ones is what gives Arden purpose in her life and makes her feel like she matters. But lately she's grown resentful of everyone—including her needy best friend and her absent mom—taking her loyalty for granted.

Then Arden stumbles upon a website called Tonight the Streets Are Ours, the musings of a young New York City writer named Peter, who gives voice to feelings that Arden has never known how to express. He seems to get her in a way that no one else does, and he hasn't even met her.

Until Arden sets out on a road trip to find him.

During one crazy night out in New York City filled with parties, dancing, and music—the type of night when anything can happen, and nearly everything does—Arden discovers that Peter isn't exactly who she thought he was. And maybe she isn't exactly who she thought she was, either.
So I know that you aren't supposed to judge a book by its cover, and this is really horrible of me to admit, but I first added this book to my TBR because it caught my eye on a bookstagram post. *hangs head shamefully* The colors and the actual design really intrigued me, which is what got me to check the book out in the first place! Once I read the summary, that was all it took for me to be hooked. I had such high hopes for this book, and I couldn't wait to get my hands on it.
Sadly, I have to report that I personally didn't enjoy the book as much as I thought I was going to. I guess that's just what I get for judging a book by its cover.
But before you think that this review is just going to be one giant book bash, I promise you that it isn't! There were still parts of this book that I did enjoy, and overall I still gave this book a three-star rating, which means that I did like this book. There were just several parts of this book that really threw me off and made me unhappy, and as I'm writing this review I realize that mostly has to do with the characters.
I did not like Arden. Not at all. I know that she was supposed to be recklessly loyal and in turn that makes her give up a lot of things for other people, but I didn't get a loyal vibe from most of her actions in the story. I felt that she was allowing herself to be someone's doormat. (Minor spoilers ahead so skip to the next paragraph if you haven't read this book yet.) Especially with the situation where Lindsey's drugs were in her locker...I understand taking the fall for minor things sometimes to save someone (even though I personally would never allow myself to get in trouble for the sake of anybody else because I am a personal believer in people taking responsibilities for their actions), but I would have never allowed myself to have a drug bust that wasn't even mine on my permanent record for all of my future colleges to see. I would've fought tooth and nail to defend myself. And that was a moment in the story that was supposed to prove that Arden was such an amazing and loyal friend, but it just made me dislike her even more, because that struck me as a weak and cowardly act instead of being loyal and brave. I didn't like that at all. So her "reckless loyalty" throughout the book really just made me sad for her because all I saw her as was a girl who was obsessed with letting people treat her like a doormat.
Reading that paragraph again, I get that it can come off as a little harsh, but it's definitely the truth and how I really feel and I won't apologize for that.
Another character that I really didn't like was Peter. He sounded amazing and funny and like an absolutely perfect guy, but he turned out to be an indecisive jerk. (More spoilers ahead) Especially when he casually "forgot" to mention that the boy who he stole Bianca from was his own brother, and he hadn't been missing for a long time -- like what the heck? He turned out to be a total deadbeat jerk and I didn't like him at all.
I also didn't like Chris but I have a feeling that it was the author's intention for you to not like Chris, so there's that. Everybody hates Chris. (Ha. Get it?)
Alright, enough with the negativity. There were definitely aspects of this book that I DID enjoy. Arden and Lindsey's adventure into New York City was definitely pretty cool to see, and I could only imagine the exhilaration of taking such an epic road trip like that. (I live pretty close to New York City, so it isn't as much of a "wow" moment for me to be there, but the whole road trip aspect -- with all of the bumps in the road along the way -- was pretty interesting.)
What this book definitely taught me seems a little cliche, but it's definitely true. Sometimes in life, you're going to experience a few bumps in the road. It's normal, and you may think that it's ruining everything, but it can lead you to even more amazing things along the way. For example, the trip in New York definitely didn't go as planned, but it helped Arden and Lindsey and also Arden and her mother end up with a stronger bond than ever before.
I also really enjoyed the epilogue - it was good to see what actually happened to the characters once the story ended, because that's something that I'm always wondering about. (And I won't lie, it was good to see that (SPOILER AHEAD) Peter's endeavors ended up failing. It served him right.)
All in all, Tonight The Streets Are Ours was a cute story about taking a chance and finding out that even though your plans may not always work out the way you want them to, sometimes even better things can end up happening. I enjoyed this book and would definitely be open to reading more work from Leila Sales in the future!