Welcome to the second week of the February edition of
The New Authors on The Block
! Last week we introduced
Kelly
and
Tarun
the authors of
These Vicious Masks
!
This week it is time for a

Q

&

A

!
Amber:
Where did your inspiration for These Vicious Masks start?
Kelly & Tarun:
We were inspired by our favorite things - Kelly LOVES historical romances, and Tarun LOVES superheroes, so we decided to smush them together. We are pretty pleased with how they smushed.
Amber:
What is your favorite Element of the story? Why?
Kelly:
Probably making fun of gothic heroes. Don't get me wrong, I will always and forever love the dark bad-boys, but we wanted to play with the idea that Evelyn is so used to men faking the tragic hero, she assumes Sebastian is that guy. Instead, he's actually kinda awkward and sweet. His circumstances are crazy, but he's not an inherently broody guy.
Tarun:
This is a bit more general, but the dialogue (especially the arguments) is probably my favorite part. I like writing witty conversations because it lets me come up with those perfect responses that I'm always too slow to conjure up in real life. And because of the expectations for Jane Austen-style books and the Victorian genre, we can kinda go crazy with that fast-paced dialogue in ways that we might not be able to get away with in a contemporary novel.
Amber:
Which character can you relate to the most?
Kelly:
Laura. I like to think I'd be more like Ev, but really, I'm secretly just the super romantic, slightly naive, Laura at heart. I love writing her and I have a whole other book planned with her in a non-These Vicious Masks world.
Tarun:
I'd like to think I'm like Evelyn too, but I'm probably closer to Mr. Kent. He's a lot cooler and wittier than me, but he's also the one who reacts to situations in a way I can imagine myself reacting, which is usually sarcasm because I can't think of anything better.
Amber:
What makes The Vicious Masks stand out from other YA books?
Kelly & Tarun:
Ooo. Well, there are so many great fantasy and historicals out there, but we think it's the combination of our favorite tropes from those two genres that helped make TVM's world unique. We focused on finding fun ways to see how elements we take for granted in the superhero genre, like say the origin of superpowers, get twisted around in a Victorian setting where characters might be less sure about whether there's a scientific, religious or magical explanation. We also looked at it from the other side too, playing with familiar Victorian conventions like the forbidden romance, or the sick girl dying of consumption, and giving them a new, fantastical twist. We really like the potential this creates for developing the rest of the world. It's a London you might think you know historically until you find these strange things hidden beneath the surface and start to wonder how far that goes.



Amber:

How does it feel to be a debut authors?
Kelly & Tarun:
Like we were granted some magical wish! It's what we have been striving towards and dreaming about for years. We have an amazing team at Swoon Reads who gave us brilliant editing notes, a gorgeous cover and support for all the little, unexpected things. We are also a part of the incredible Sweet 16s community, full of debut authors sharing tips, experiences and cheerleading. It's the most exciting and defining experience we have ever had.
Amber:
Do you have any other writings in progress that you can share?
Kelly & Tarun:
We are currently hard at work on the sequel, to be followed by the conclusion of the trilogy. We have bits and pieces of ideas and rough outlines for future non-TVM books, but those are all a ways off.
Amber:
What's been your best experience as a new author so far?
Kelly & Tarun:
Meeting the amazing book community. Bloggers, other writers, editors, publishers, booksellers - holy wow there are so many amazing, supportive and passionate people out there. And it's been pretty magical to see strangers finally meet the characters the two of us have loved for years.
Amber:
What's your advice to fellow debut authors?
Kelly & Tarun:
A
-

Join a community like The Sweet 16s or The Swanky 17s.
B
- Just focus on your particular audience– the people who fall passionately in love with your characters. You're never going to get unanimous approval from all reviewers.
Amber:
Try and market These Vicious Masks in 140 characters or less:
Kelly & Tarun:
We kinda love our tagline that Swoon Reads came up with:
Jane Austen meets X-Men in this gripping Victorian adventure.
Amber:
Name 3 songs that help get you in the writing mood:
Kelly:
Can I cheat a little? I listen to the entire Pride & Prejudice soundtrack to get into a writing groove.
Tarun:
For writing Evelyn, it's been bad-ass lady rock: Ex-Hex - Warpaint, La Sera - Please Be My Third Eye, Metric - Stadium Love
Amber:
Create social media handles for 3 characters
Kelly & Tarun:
Evelyn Wyndham: @TalkWorldlyToMe
Rose Wyndham: @YesThatNurse
Laura Kent: @Love~~Laugh ~~Live
About Tarun and Kelly:
Mild-mannered assistant by day, milder-mannered writer by night, Tarun Shanker is a New York University graduate currently living in Los Angeles. His idea of paradise is a place where kung-fu movies are projected on clouds, David Bowie's music fills the air and chai tea flows freely from fountains.



Kelly Zekas is a writer and actor living in NYC. YA is her absolute favorite thing on earth other than cupcakes and she has spent many hours crying over fictional deaths. She also started reading Harlequin romances at a possibly too early age (12?), and still loves a good paperback romance.




Tarun and Kelly met in a freshman year writing class at NYU and started writing

These Vicious Masks

a few years later. It is their first novel.

About These Vicious Masks: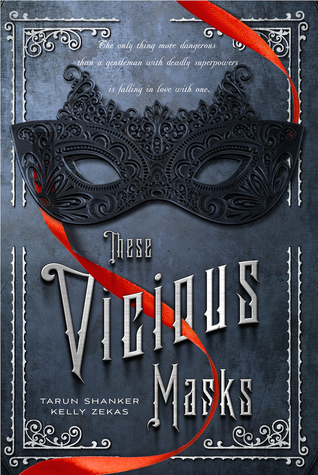 Title: These Vicious Masks (These Vicious Masks #1)
Author: Tarun Shanker & Kelly Zekas
Genre: Historical Fiction, Fantasy, Paranormal
Publisher: Swoon Reads
Publication Date:
February 9th 2016
Summary:
England, 1882. Evelyn is bored with society and its expectations. So when her beloved sister, Rose, mysteriously vanishes, she ignores her parents and travels to London to find her, accompanied by the dashing Mr. Kent. But they're not the only ones looking for Rose. The reclusive, young gentleman Sebastian Braddock is also searching for her, claiming that both sisters have special healing powers. Evelyn is convinced that Sebastian must be mad, until she discovers that his strange tales of extraordinary people are true—and that her sister is in graver danger than she feared.
What to expect this month:
February 7th: Introduction

February 14th:

Q&A

February 21st:

Excerpt

February 28th:

Character Interview
Giveaway:
Please be 13 years or older or have a parents permission to enter

This giveaway is open to US residents or those with US mailing addresses
The Book Bratz, Kelly, and Tarun are not responsible for any lost or damaged packages.