This week we have a Q&A with Roshani!
"The Star-Touched Queen transports us to a world unlike our own, rich in mythology and the desire to turn things right for the ones you love, The Star-Touched Queen will have you in its clutches from the first page to the last." - Amber, The Book Bratz
Check out my review here!
Q&A
·

Where did your inspiration for The Star-Touched Queen start?
TSTQ was very much inspired by my childhood. Which is not to say that my childhood took place in a harem and that I had a demon horse to keep me company (alas). I was raised on fairytales from all over the world. My favorite myths always had these Underworld aspects, such as the Indian myth of Savitri & Satyavan, and the Greek myth of Hades & Persephone. What I wanted to do with TSTQ was show how we can tell familiar tales in unfamiliar constructs. That idea that something can be familiar and different was really what inspired the book.
·

What is your favorite element of the story? Why?
My favorite element is the play on interpretation. We always think of fate as this heavy-handed, solid and inescapablething. I loved challenging that, and emphasizing how fate is something that can be interpreted a thousand ways. To me, it plays to the idea that although there are things we cannot control, our reaction is always in our power.
·

Which character can you relate to the most?
Hands down Kamala, the demon horse. She's shamelessly motivated by her food needs. I dig it.
·

What makes The Star-Touched Queen stand out from other YA books?
The setting. I'm not familiar with a lot of YA tales set in India that explore Indian mythology, and I'd love to see more tales from outside the Grimms/Perrault sphere.
·

How does it feel to be a debut author?
It feels utterly miraculous and entirely terrifying. It feels like I've swallowed a star and am now running around worrying if I'm going to go supernova (i.e.-collapse and implode) or supernova (i.e.-achieve all heights of awesome).
·

Do you have any other writings in progress that you can share?
I'm currently working on the companion book of The Star-Touched Queen! There's a creepy Otherworld tournament, poisonous courtesans, a grotto where your dearest memories attack you, and, of course, love.
·

What's been your best experience as a new author so far?
READERS! Every time someone reaches out to me (whether in person or online) and tells me why they're excited about the book or what it means to them, I feel exquisitely happy. The enthusiasm of readers motivates me to tell the best story I can because I want these tales to be deserving of that excitement.
·

What's your advice to fellow debut authors?
Avoid self-comparison. Remember that what you see on social media is another person's highlight reel. Be supportive. Be kind. Remember that the worth of your stories is not determined by buzz or numbers.
About Roshani:
Roshani Chokshi comes from a small town in Georgia where she collected a Southern accent, but does not use it unless under duress. She grew up in a blue house with a perpetually napping bear-dog. At Emory University, she dabbled with journalism, attended some classes in pajamas, forgot to buy winter boots and majored in 14th century British literature. She spent a year after graduation working and traveling and writing. After that, she started law school at the University of Georgia where she's learning a new kind of storytelling. The Star-Touched Queen is her first novel.
About The Star-Touched Queen: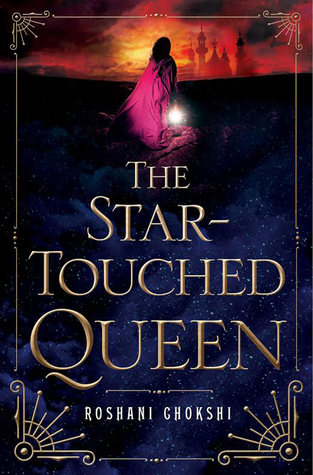 Title:
The Star-Touched Queen
Genre: Mythology, Fantasy
Publisher:
St. Martin's Griffin
Publication Date:
April 26th 2016
Fate and fortune. Power and passion. What does it take to be the queen of a kingdom when you're only seventeen?

Maya is cursed. With a horoscope that promises a marriage of Death and Destruction, she has earned only the scorn and fear of her father's kingdom. Content to follow more scholarly pursuits, her whole world is torn apart when her father, the Raja, arranges a wedding of political convenience to quell outside rebellions. Soon Maya becomes the queen of Akaran and wife of Amar. Neither roles are what she expected: As Akaran's queen, she finds her voice and power. As Amar's wife, she finds something else entirely: Compassion. Protection. Desire...

But Akaran has its own secrets -- thousands of locked doors, gardens of glass, and a tree that bears memories instead of fruit. Soon, Maya suspects her life is in danger. Yet who, besides her husband, can she trust? With the fate of the human and Otherworldly realms hanging in the balance, Maya must unravel an ancient mystery that spans reincarnated lives to save those she loves the most. . .including herself.

A lush and vivid story that is steeped in Indian folklore and mythology. The Star-Touched Queen is a novel that no reader will soon forget

What to expect this month:
May 1st: Introduction of Roshani + Giveaway
May 8th: Makeup Look
May 15th: Q&A
May 22nd: 10 Facts about The Start-Touched Queen
May 29th: Excerpt
Giveaway:
Roshani is giving away a signed copy of The Star-Touched Queen! US Only.