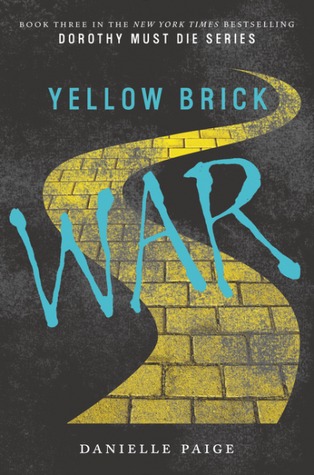 Title: Yellow Brick War (Dorothy Must Die, #3)
Author: Danielle Paige
Publisher: HarperCollins
Rating: 3/5 Stars
Hardcover, 270 Pages
Published March 2016
Read my review of:
Dorothy Must Die (Book #1)
The Wicked Will Rise (Book #2)
Summary: Amy Gumm's mission to take down Dorothy Gale is not going according to plan. Dorothy has found a way to bridge the worlds of Oz and Kansas, and if the power-hungry dictator of Oz has her way, Kansas will be destroyed forever. Now, Amy has to team up with the Revolutionary Order of the Wicked to save her home, restore the balance between the magic and nonmagic worlds, maybe get the guy—and kill that not-so-sweet Kansas farm girl once and for all.
I first became a fan of these series a few years back when I met author Danielle Paige at BookCon and got myself a copy of Dorothy Must Die. Since then, I fell in love with this totally riveting and outlandish retelling of one of the world's sweetest stories, The Wizard of Oz. I loved the second book as much as I loved the first, and the third book (the one I'm reviewing right now), was even good as well, even if I didn't see it as up to par with the previous two.
My problem with this series is that I feel it would've been better as one book, or maybe a duology, but that's about it. A fourth book is currently in production, which a lot of people are excited for but I personally feel is a bit overkill, only because the series was so great that it shouldn't be dragged on, because that's when it starts to lose its value. (Spoilers coming up ahead so please skip to the next paragraph if you haven't read this book yet!) The fact that they managed to kill Dorothy in this book seems a bit sketchy, because they didn't actually kill her, and if there's anything that you can call that evil snot of a girl, it's resilient. So I'm already predicting that she's going to come back from wherever she was banished and wreak more havoc. Which ultimately rids the fourth book of its entire shock factor, which already makes it lose some value in my mind.
What I wasn't big on in this book was the fact that it just seemed to be one giant chain of things. As soon as one issue was solved, another one popped up less than an hour or so after. (Occasionally you were given a 12 hour reprieve while the characters were sleeping.) I get that the point of the story is to grip you and pull you in, but reading this book started to actually make me feel a little bit exhausted, because it was just one constant plot point after another, and everything felt way too crunched in and rushed. Too much definitely felt like it was happening too fast.
However, there were aspects of this book that I did enjoy. The actual story itself is something super fascinating - the idea that Dorothy went back to Oz and transformed from the sweet girl she once was into someone worse than all of the witches combined. Seeing all of the story's famous characters in a new (and particularly evil) light definitely opens your eyes and catches your interest. Danielle Paige has no shortage of creativity in this series, that's for sure!
All in all, I enjoyed Yellow Brick War. It was a fast-paced novel that picks up where the previous book left off in the fight to end Dorothy and her reign of evil once and for all. With the way this book ended, I can definitely say that there will be a fourth book coming (and Goodreads seems to agree with me). Although I wish the series wouldn't continue so it can end on a good note while it doesn't feel dragged on, I'll definitely be reading the next book in the series because I'm curious to see what happens to all of the characters and to Oz itself!