This week we have a little something different! Roshani created a makeup look for this weeks post inspired by

The Star-Touched Queen

!
"The Star-Touched Queen transports us to a world unlike our own, rich in mythology and the desire to turn things right for the ones you love, The Star-Touched Queen will have you in its clutches from the first page to the last." - Amber, The Book Bratz
Makeup Look:
For this look, I wanted to create something that would reflect the night sky. Like evening fading to night. This graphic eyeliner look is also inspired by my absolute love of the 1960s. Hope you enjoy! If you try out the look, tag me and use the hashtag "startouched."
1. First, apply concealer beneath your eyes and over your lids. This will make the colors pop and prevent creasing throughout the day.
2.

With a vivid blue eyeliner pencil, line your eyes and cover your entire eyelid. Take the color just above the crease, and blend.
3.

With a shimmery pale silver shadow, pat this on top of your lids, concentrating on the center and the inner corners.
4.
Line your eyes with liquid eyeliner. I find that liquid is the most pigmented, but use whatever you're comfortable with! Because this look is liner heavy, make the angle of your cat-eye sharp by using a straight edge like a business card.
5. Once you've lined the top, take the same blue eyeliner and apply this on the outside corner of your eye, just below the wing.
6. Line the bottom of your eyes with the liquid liner by going outside of the blue color your first used. This will make your eyes look super huge!
7.
With a black eyeshadow, blend this from the corner of your eyeliner and sweep it across the top of the color. You want this to resemble a cut crease, so blend lightly to preserve the layers of color.
9.
With a black eyeliner, draw a bindhi between your eyebrows. Think of it like an exclamation point!
10.
Top off with mascara and you're done!
Amber: I simply enjoy this look!
About Roshani:
Roshani Chokshi comes from a small town in Georgia where she collected a Southern accent, but does not use it unless under duress. She grew up in a blue house with a perpetually napping bear-dog. At Emory University, she dabbled with journalism, attended some classes in pajamas, forgot to buy winter boots and majored in 14th century British literature. She spent a year after graduation working and traveling and writing. After that, she started law school at the University of Georgia where she's learning a new kind of storytelling. The Star-Touched Queen is her first novel.
About The Star-Touched Queen: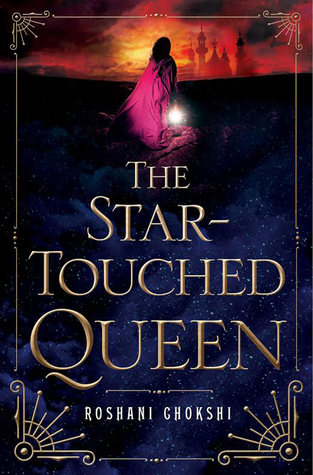 Title:
The Star-Touched Queen
Genre: Mythology, Fantasy
Publisher:
St. Martin's Griffin
Publication Date:
April 26th 2016
Fate and fortune. Power and passion. What does it take to be the queen of a kingdom when you're only seventeen?

Maya is cursed. With a horoscope that promises a marriage of Death and Destruction, she has earned only the scorn and fear of her father's kingdom. Content to follow more scholarly pursuits, her whole world is torn apart when her father, the Raja, arranges a wedding of political convenience to quell outside rebellions. Soon Maya becomes the queen of Akaran and wife of Amar. Neither roles are what she expected: As Akaran's queen, she finds her voice and power. As Amar's wife, she finds something else entirely: Compassion. Protection. Desire...

But Akaran has its own secrets -- thousands of locked doors, gardens of glass, and a tree that bears memories instead of fruit. Soon, Maya suspects her life is in danger. Yet who, besides her husband, can she trust? With the fate of the human and Otherworldly realms hanging in the balance, Maya must unravel an ancient mystery that spans reincarnated lives to save those she loves the most. . .including herself.

A lush and vivid story that is steeped in Indian folklore and mythology. The Star-Touched Queen is a novel that no reader will soon forget

What to expect this month:
May 1st: Introduction of Roshani + Giveaway
May 8th: Makeup Look
May 15th: Q&A
May 22nd: 10 Facts about The Start-Touched Queen
May 29th: Excerpt
Giveaway:
Roshani is giving away a signed copy of The Star-Touched Queen! US Only.