Welcome to the third week of the February edition of
The New Authors on The Block
! Last week we introduced
Kelly
and
Tarun
the authors of
These Vicious Masks
!
This week it is time for an

Excerpt

!
Context:

Evelyn's sister, Rose, has just disappeared after a ball the evening before. She suspects her mysterious new neighbor's involvement and confronts him outside church.
"What is your interest in Rose? Why were you so intent on speaking to her with all that nonsense about her gift?"
Frowning, he spoke slowly to me as though I were a child. "I wished to thank her for helping save my uncle's life last week."
Ha! "You could have easily given her all the thanks and gratitude in one sentence. But you demanded a private word with her. You, sir, wanted to talk to her about her 'powers.' What could you mean by that?"
His eyes narrowed in annoyance, and his lips twisted into a sardonic smile, a lazy, roguish attitude altering his features in a way intended to make a girl swoon. "Miss Wyndham, I think your problem is one that is common amongst bored country dwellers— you're scrutinizing meaningless details when there's nothing to be found. I simply wished to speak to your lovely, demure sister. Now, I'm sorry, but if there's no other problem, I believe a higher power is calling."
I gaped at the sweeping generalizations and mouthed inarticulately as he passed me with a smirk and a tip of his hat.
Finally, I found my tongue and my feet to follow him to the church steps. "My problem, Oh Lord Byron, is this secretive, mercurial behavior! First you make all sorts of strange, veiled suggestions, then you hide information and lie to me! I know you know Mr. Cheval, and you will tell me where he is!"
Confronting him directly on the issue was remarkably refreshing, like puncturing the skin of an orange. Still, he simply ignored me and stormed up the steps, taut as a bent bow. I flew after him like an arrow.
"Why can't you answer a straight question with the truth? Do you believe this brooding masquerade is somehow attractive? Just tell me what you know and stop wasting my time." His back tensed visibly under his jacket as he spoke without turning to me.
"Nothing would give me more pleasure. Except, of course, if you stopped wasting mine."
I felt all shreds of rationality flee my head. "Mr. Braddock!" I half yelled. "Stop at once!" He gave no sign of acknowledgment.
How dare he! Fuming, I flew up the steps behind him, hissing his name to no avail. As his hand closed on the church door, I reached and grabbed his wrist, catching the bare skin between his glove and shirt. At once, a rush of hot blood and some unfamiliar, sublime essence worked itself into my veins. Frissons of stimulation swirled up my arms—peaks and depths, vacuums and floods, compressions and explosions, endless contradictions fitting together like jigsaw-puzzle pieces. I was aware of every distinct, tiny part of my body. A gasp climbed out of my throat as I glowed brighter than the sun had ever shone. And then he wrested his wrist away, our connection severed. I was again normal and alive and existing here on earth, and he was gazing at me with horrified concern, his own breath coming in shallow pants.
"What on earth did you do?" The words left my still-trembling lips without permission.
His expression changed to wonder as he took me in, and his eyes darted to our hands, as though they had suddenly appeared at the ends of our wrists. Indecipherable emotions swam in the depths of those eyes, and his hand hovered up to my face, but with a snap, he pulled it back, afraid to cross some unspoken boundary.
"You . . . you're well?" The words fell softly, reverently from lips that curled into a soft smile. I stood transfixed for a moment before pulling away from him, away from the confusing sensations that warmed my skin.
"Wh-what?" I stuttered, stumbling away.
He followed eagerly, face utterly transformed by a strange zeal. "It must be something—my God!" He cut himself off with a deep, relieved laugh. "Miss Wyndham, you needn't hide it from me. It must have to do with your power."
Just then, the church door opened, and for the first time in my life, I thanked God for the unexpected appearance of my vexed mother.
"Darling," she said, "I am sure you and Mr. Braddock would like to attend church today, yes?"
About Tarun and Kelly:
Mild-mannered assistant by day, milder-mannered writer by night, Tarun Shanker is a New York University graduate currently living in Los Angeles. His idea of paradise is a place where kung-fu movies are projected on clouds, David Bowie's music fills the air and chai tea flows freely from fountains.



Kelly Zekas is a writer and actor living in NYC. YA is her absolute favorite thing on earth other than cupcakes and she has spent many hours crying over fictional deaths. She also started reading Harlequin romances at a possibly too early age (12?), and still loves a good paperback romance.




Tarun and Kelly met in a freshman year writing class at NYU and started writing

These Vicious Masks

a few years later. It is their first novel.

About These Vicious Masks: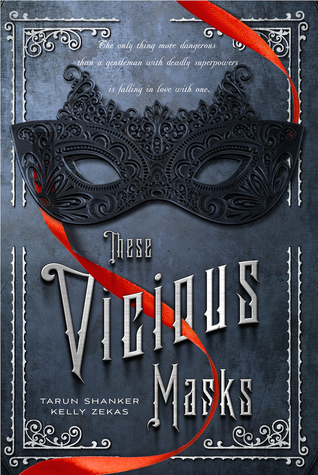 Title: These Vicious Masks (These Vicious Masks #1)
Author: Tarun Shanker & Kelly Zekas
Genre: Historical Fiction, Fantasy, Paranormal
Publisher: Swoon Reads
Publication Date:
February 9th 2016
Summary:
England, 1882. Evelyn is bored with society and its expectations. So when her beloved sister, Rose, mysteriously vanishes, she ignores her parents and travels to London to find her, accompanied by the dashing Mr. Kent. But they're not the only ones looking for Rose. The reclusive, young gentleman Sebastian Braddock is also searching for her, claiming that both sisters have special healing powers. Evelyn is convinced that Sebastian must be mad, until she discovers that his strange tales of extraordinary people are true—and that her sister is in graver danger than she feared.
What to expect this month:
February 7th: Introduction
February 14th: Q&A
February 21st:

Excerpt

February 28th:

Character Interview
Giveaway:
Please be 13 years or older or have a parents permission to enter

This giveaway is open to US residents or those with US mailing addresses
The Book Bratz, Kelly, and Tarun are not responsible for any lost or damaged packages.