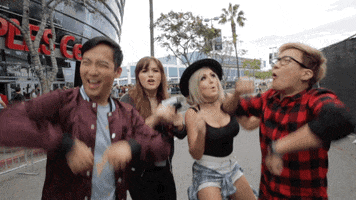 Hi guys! We're almost at 3K followers on Twitter, so we decided to host a giveaway to celebrate!
We're seriously so grateful for all of you guys, and all that you do when you interact with The Book Bratz, talk to us about your favorite reads, enter our giveaways, and just be super awesome book friends! We have almost three thousand book friends now, and to celebrate, we decided to give back to you guys! So without further ado, here are the rules of the giveaway!
Prize:
We're going to choose three lucky winners -- and each winner gets to select one book of their choice from The Book Depository!
Giveaway Rules:
1. This is a Twitter giveaway. To enter, you must follow us on Twitter and retweet our giveaway Tweet. That can be done by clicking the link to the Tweet, which we have included at the bottom of this post.
2. Three winners will be selected. The giveaway is international, as long as The Book Depository ships to your country.
3. The giveaway ends on Saturday, November 5th, at 12:01am EST.
4. No giveaway/spam bots will be selected to win this giveaway.
5. Winners will be notified via Twitter. If we don't hear anything from you after five days of publicly declaring you a winner, another winner will be chosen in your place.
You can enter the giveaway by clicking HERE.
Thank you so much for always supporting us! We're so happy to give you guys presents for helping us reach so many milestones. We love you all -- best of luck!