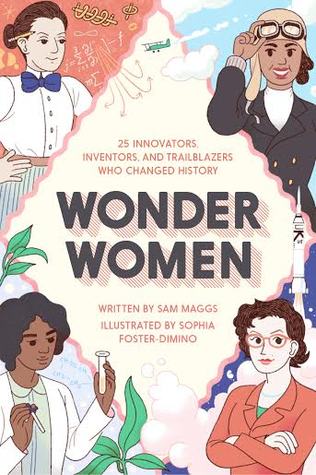 Title: Wonder Women
Author: Sam Maggs
Publisher: Quirk Books
Paperback, 240 Pages
Published October 4th 2016
Summary: Ever heard of Allied spy Noor Inayat Khan, a Muslim woman whom the Nazis considered "highly dangerous"? Or German painter and entomologist Maria Sibylla Merian, who planned and embarked on the world's first scientific expedition? How about Huang Daopo, the inventor who fled an abusive child marriage only to revolutionize textile production in China?


Women have always been able to change the world, even when they didn't get the credit. In Wonder Women, author Sam Maggs introduces you to pioneering female scientists, engineers, mathematicians, adventurers, and inventors—each profile a study in passion, smarts, and stickto-itiveness, complete with portraits by Google doodler Sophia Foster-Dimino, an extensive

bibliography, and a guide to present-day women-centric STEM organizations.
I received a copy of this book from Quirk books in exchange for an honest review, and I'm so glad that I did!
This book helps the reader explore many important women in history and their contributions to society -- basically, just how kick ass they were. You get a chance to explore women in the areas of science, medicine, espionage (my personal favorite), innovation, and adventure. You get to learn their stories, why they did what they did, and just how big of an impact they left behind. There are tons of interviews, articles, and questions to consider.
Seriously, guys. This book is chock full of information on why girls rock.
(Which, just to be clear, doesn't mean our guy readers don't rock, too. This book just highlights women.)
In this book, you get to read stories of so many awesome women such as the following:
9. Hospital Administrators
11. Spies (freaking SPIES)
Like, seriously. Look at all of the awesome things that these REAL women have done -- no fiction required! It's super awesome, and super interesting.
Overall, I think that Wonder Women is a super interesting book that gives readers the insight and intellect of several important female figures in history and in the world. I think it's an important read because we learn a lot about male success in schools, and I feel that it's equally important to learn about the things that women succeed in as well.
I'd like to extend another huge thank you to Quirk Books for sending me a copy of this book to check out! If this isn't on your TBR already, it definitely should be!