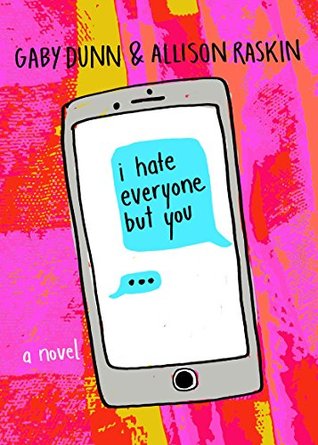 Title: I Hate Everyone But You
Author: Gaby Dunn & Allison Raskin
Publisher: Wednesday Books
My Rating: 5/5 Stars
Hardcover, 352 Pages
Publication Date: September 5th, 2017
Summary:

Dear Best Friend,




I can already tell that I will hate everyone but you.




Sincerely,




Ava Helmer




(that brunette who won't leave you alone)





We're still in the same room, you weirdo.




Stop crying.




G





So begins a series of texts and emails sent between two best friends, Ava and Gen, as they head off to their first semesters of college on opposite sides of the country. From first loves to weird roommates, heartbreak, self-discovery, coming out and mental health, the two best friends will document every moment to each other. But as each changes and grows into her new life, will their friendship be able to survive the distance?
I received an advanced copy of this book in exchange for an honest review, and I'm really glad that I got the chance to. This book had been on my TBR for quite some time and I was itching to relieve my glory days of reading Lauren Myracle's books (TTYL, anyone?) and marveling at the fact that I was able to pull an entire story out of a series of instant messages. This book was no different -- it was told entirely through emails (both brief and long) and text messages, and I was once again amazed at the incredible story that unfolded for me through the channels of today's social media.
As the summary explains, Ava and Gen are best friends. But when Gen goes across the country for college (to Emerson, which is a school I had actually been considering at one point!), Ava is devastated (and Gen is, too). They decide to make a pact that says they must email each other often (once a day, I believe -- it's mentioned towards the end of the book), so the entire story is their conversations back and forth, talking about everything from new friends to heartbreak to drama (and of course, about college life).
What I really liked about this book was its ability to cover so many topics in just a few hundred pages worth of emails. In this story, the reader gets to explore everything from friendship to heartbreak to first relationships and college and Greek life, to first times, sex, sexual orientation, teacher/student relationships, academic integrity, and even mental illness. This book leaves no stone unturned in the best of ways. It was also really interesting to see how having co-authors create the story affected the writing -- Gen and Ava both had very clear, distinct voices which made the book very interesting and easy to follow.
Another part of this book that was really important to me (and perhaps my favorite part, actually) was the friendship between Ava and Gen. Even when things got rocky and there were some pretty heavy curveballs thrown into the mix, they managed to make their friendship work. Even when they were all the way across the country. When Gen was exploring her sexuality and also had a lot of struggles during her first semester in college, Ava was there to offer her some level-headed advice. And when Ava was trying to branch out a little bit and enjoy the college experience a little more, Gen was always there to encourage her with some helpful tips. In a lot of ways, Ava and Gen reminded me of my friendship with my best friend -- especially when it came to the witty banter and the inside jokes.
Overall, I really enjoyed I Hate Everyone But You. It's not often that I rate a book five stars -- it has to be a book that I really loved -- but I couldn't imagine rating this book anything else. It was a quick, easy, entertaining read full of laughter and drama and, most importantly, friendship, and it made me want to pick up the phone and reach out to my lifelong best friends a little more often. (Spoiler alert: That's exactly what I did after I finished this book. I picked up the phone and texted my best friend.) If this book wasn't on your TBR already, it needs to be! It's a quick read that will make you laugh and feel all the feels at just the right times, and you'll finish this book with a burst of love for your best friends and, if you're anything like me, you'll finish this book smiling.
I'd definitely be open to reading more work by Gaby Dunn & Allison Raskin in the future, because this book was one of my favorites of 2017 by far! :-)