"Waiting On Wednesday" is a weekly meme hosted by

Breaking The Spine

where we highlight some of the upcoming books we can't wait to read!
Jessica's Waiting on: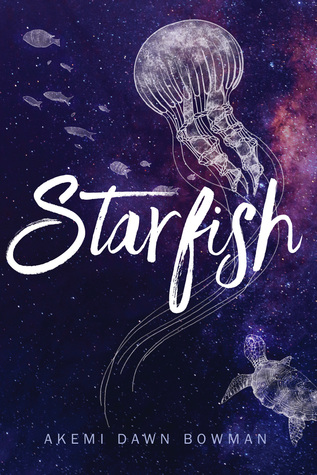 Title:
Starfish
Author:
Akemi Dawn Bowman
Publisher: Simon Pulse
Publication Date: September 26th, 2017
Summary:

Kiko Himura has always had a hard time saying exactly what she's thinking. With a mother who makes her feel unremarkable and a half-Japanese heritage she doesn't quite understand, Kiko prefers to keep her head down, certain that once she makes it into her dream art school, Prism, her real life will begin.

But then Kiko doesn't get into Prism, at the same time her abusive uncle moves back in with her family. So when she receives an invitation from her childhood friend to leave her small town and tour art schools on the west coast, Kiko jumps at the opportunity in spite of the anxieties and fears that attempt to hold her back. And now that she is finally free to be her own person outside the constricting walls of her home life, Kiko learns life-changing truths about herself, her past, and how to be brave.
You guys. I have heard nothing but good things about this book from so many readers and bloggers on Twitter, and it made me decide to research it and check it out. The summary seems super intriguing (and the cover of the book is absolutely gorgeous), and I just want it to be September already so I can have this book in my hands! I'm also really excited to see the character development that this summary hints will happen throughout the book -- from what I've heard from people who have already read it, this is one of their favorite books of 2017. I can't wait to read it and add my own opinion into the mix!
What are you waiting on this week? Leave your links so I can stop back!