AUGUST RECOMMENDATIONS!
It's a new month and summer is winding down, but it's still time for some new book recommendations! Today, I'm bringing you three awesome reads that you need to pick up ASAP and bring with you to your last few beach days before school and work set in again. I'm excited to get back to school but also a little bummed because that means my reading time is going to slow down again -- so if you're in the same boat as me, take advantage of these three reads while you still have the chance!
Here are my recommendations for August!
Title: Little & Lion
Authors: Brandy Colbert
Publisher: Little, Brown
Why I'm Recommending It: I received an ARC of this book at BookCon and I'm so glad I did, because not only did I love this book, but I loved how it covered so many different and equally important topics. This book talks about things from race to relationships to sexuality to mental illness, just to name a few. Brandy Colbert did an excellent job working all of these aspects into the story seamlessly, and it was tied together in a plot that I really enjoyed reading. If you want to read my review, you can click here.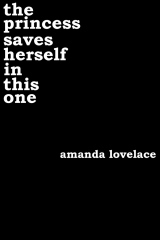 Title: The Princess Saves Herself In This One
Author: Amanda Lovelace
Publisher: Andrews McMeel Publishing
Why I'm Recommending It: I was never a huge fan of poetry before I picked up this book, but it's safe to say that I've definitely changed my mind. This book was a little over 150 pages but it was such a quick and easy read, but each poem -- even if only a few words or lines in length -- managed to punctuate an important theme or point that left you reeling. I had to go back and reread several pages in this book because I read it and was like "Whoa, what?". This book was a piece of art that was beautifully done and it brought me into the world of poetry, and I can't wait to read Lovelace's next one. You can read my review here.
Title: Once and For All
Author: Sarah Dessen
Publisher: Viking Books
Why I'm Recommending It: I've been a Sarah Dessen fan for as long as I could remember, so I was naturally so eager to get my hands on this book at BookCon. And when I did, I was so glad for that opportunity, because Dessen managed to deliver another complicated romance that left my heart in shambles, even if for all the right reasons. There were even several plot twists that I hadn't seen coming and I ended up gasping out loud.

If you want to read my review, you can click

here

.
I hope you guys enjoyed my eighth recommendations post! When I started this in January I didn't think it was going to go very far, but already so many of you have reached out to me telling me that you read something I recommended, and it makes me so happy to see that other people are enjoying the books that I love so much! So comment your thoughts down below if you read any of these three books, or if you plan on reading them. If you have any books that you think I should read based on these recommendations, feel free to let me know some of those too! :-)
If you want, check out my book recommendations for previous months in 2017!
January Recommendations
February Recommendations
March Recommendations
April Recommendations
May Recommendations
June Recommendations
July Recommendations