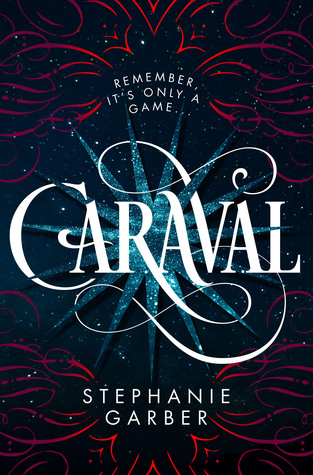 Title:
Caraval
Summary:

Scarlett Dragna has never left the tiny island where she and her sister, Tella, live with their powerful, and cruel, father. Now Scarlett's father has arranged a marriage for her, and Scarlett thinks her dreams of seeing Caraval—the faraway, once-a-year performance where the audience participates in the show—are over.

But this year, Scarlett's long-dreamt-of invitation finally arrives. With the help of a mysterious sailor, Tella whisks Scarlett away to the show. Only, as soon as they arrive, Tella is kidnapped by Caraval's mastermind organizer, Legend. It turns out that this season's Caraval revolves around Tella, and whoever finds her first is the winner.

Scarlett has been told that everything that happens during Caraval is only an elaborate performance. Nevertheless she becomes enmeshed in a game of love, heartbreak, and magic. And whether Caraval is real or not, Scarlett must find Tella before the five nights of the game are over or a dangerous domino effect of consequences will be set off, and her beloved sister will disappear forever.
Today on the blog we have a guest review from Scarlet over at Scarlet Writers! They were kind enough to stop by and review Caraval and share their thoughts on it, and we couldn't be more excited to be hosting all of these guest reviews. So without further ado, let's get to Scarlet's review!
Stephanie Garber's debut novel Caraval is one of the best stories I've read this year. It was engaging, funny, thrilling, romantic, and everything else I hoped it would be. I fell in love with Tella from the start. She is hilariously rebellious and her need for adventure is admirable. Scarlett took a little bit more time to warm up to, but I loved her personality. Cautious, but strong-willed and braver than she expected. I loved watching her grow through the story and see how she came out of her shell and bloomed into being a fierce defender of her own freedom.
Julian himself is quite the character, his roguish ways can make you wary at times, but I think that's what I love the most about him. He doesn't apologize for the way he is but doesn't try to be too much of a general jerk either. He just lays things out the way they are and lets Scarlett make her own decision instead of trying to tell her what to do.
I feel like Scarlett's independence is something that really sparks the relationship between them. Scarlett has a game to win and sister to find, she doesn't have time to mess with Julian's flirts or antics. They encourage the other to grow, forming a slow-burn kind of love. It isn't something often seen in YA Fantasy and I think Garber did a great job with that aspect of the relationship.
The world of Caraval is also something I've never seen before. It has the magical air of Alice in Wonderland with a mix of circus colors and Victorian ideals. I really loved how Garber had the currency in the game be emotional possessions: memories, time, secrets. The game forces its players to speak the truth about themselves. While many were too lost in the thrill to reflect on themselves, Scarlet grew all the stronger for it.
Caraval was a wonderful, lightheaded read with unexpected twists. By the end I was in love with the characters and couldn't get enough of the magical world. Hopefully, in the sequel Legendary, we'll have more questions answered, like who really is Legend? The story ends on a bit a cliffhanger that makes you curious and itching for the next book.
I highly recommend you check this book out if you want something whimsical, magical, and otherworldly.
~~~~~~~~~~~~~~~~~~~~~~~~~~~~~~~~~~~~~~~~
We'd like to once again thank Scarlet for stopping by The Book Bratz today to post this guest review. You can read the original review over on their blog by clicking HERE!
** Psst! Interested in guest reviewing on The Book Bratz? Shoot us an email at thebookbratz@gmail.com or DM us on Twitter (@thebookbratz) and we'd love to have you!