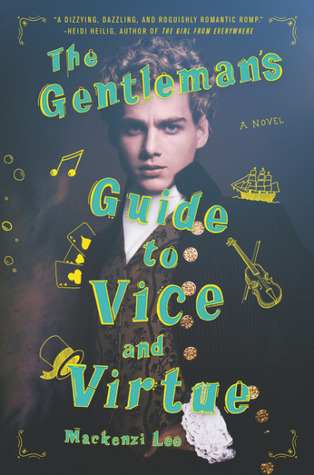 Title:
The Gentleman's Guide to Vice and Virtue
Author: Mackenzi Lee
Rating: 5/5 Stars
Publisher: Katherine Tegen Books
Hardcover, 513 Pages
Published June 2017
Summary:

Henry "Monty" Montague was born and bred to be a gentleman, but he was never one to be tamed. The finest boarding schools in England and the constant disapproval of his father haven't been able to curb any of his roguish passions—not for gambling halls, late nights spent with a bottle of spirits, or waking up in the arms of women or men.

But as Monty embarks on his Grand Tour of Europe, his quest for a life filled with pleasure and vice is in danger of coming to an end. Not only does his father expect him to take over the family's estate upon his return, but Monty is also nursing an impossible crush on his best friend and traveling companion, Percy.

Still it isn't in Monty's nature to give up. Even with his younger sister, Felicity, in tow, he vows to make this yearlong escapade one last hedonistic hurrah and flirt with Percy from Paris to Rome. But when one of Monty's reckless decisions turns their trip abroad into a harrowing manhunt that spans across Europe, it calls into question everything he knows, including his relationship with the boy he adores.






Today on the blog we have a guest review from Ashleigh over at For The Love of Books! She was kind enough to stop by and review Gentleman's Guide and share her thoughts on it, and we couldn't be more excited to have her here as one of our first guest reviews ever! So without further ado, let's get into it!
OH MY WORD, MY HEART!

This book has literally stolen my heart and I'm not even being melodramatic. I have so many things I could say about this book that I could be here writing this all day. I actually finished this book in the middle of October, but I haven't posted a review yet as I don't think my review would ever do justice to how good this book actually is.
In other words, I abso-bloody-lutely loved it (you'll know this reference if you've already read it). I genuinely haven't enjoyed a book as much as The Gentleman's Guide to Vice and Virtue (GGTVAV) in years. Before I started listening to this audiobook, I was stuck in a major reading slump. It's ignited my love for reading again, which I am so happy about.
I hadn't heard of this book until I began blogging. It was our first Great Bloggers Book of the Month (you can find a link to our Twitter Page here: ), so I thought I'd give it a go. Once I read the synopses I knew it would be a book that was right up my street. I signed up for audible and decided it would be the first book I'd purchase, and I'm so glad I did.
Not only was the book brilliant, but I don't think a better person could have been chosen to narrate it on Audible. If you're not familiar with the audiobook version, the person who narrates it is Christian Coulson. I recognised his voice straight away, but couldn't pin point where I'd heard it before. I then did a bit of research and realised that he plays Tom Riddle in Harry Potter and the Chamber of Secrets.
This didn't distract me from the book however. His voice acting was brilliant and he gave each character a completely different, distinctive voice which was so helpful.
Before listening to GGTVAV, I hadn't listened to an audiobook for years as I thought that the voice differentiation would be non existent and the book would



be difficult to follow because of this, but that wasn't the case at all. The only negative thing I would say about the audiobook is that Coulson was fairly good at doing the different European accents, but if I'm being brutally honest his accents did slip at times.
The other gripe I have with listening to an audiobook is not having any control over how quickly/slowly the book is read. If I was reading the novel myself I probably would have finished it at a quicker speed, but it was nice that it didn't feel rushed.
I started to listen to GGTVAV when I was on the bus and after only a couple of minutes, I was howling with laughter. It got to the point where I had a few funny looks thrown my way because of it too. I thought that Mackenzi's use of humour throughout book was brilliant.
The book as a whole was everything I wanted it be and more. It made me happy, sad, shocked, angry, tearful – basically all of the emotions. I absolutely loved the three main characters, Monty, Percy and Felicity. I think that Felicity is my new favourite name, it's so pretty. I thoroughly enjoyed following them on their adventure and tour around Europe.
I will be honest and say that Monty did frustrate me a lot, especially with some of the things he said AND didn't say for that matter! Sometimes his actions were so reckless I wanted to just take him by the shoulders, softly shake him and say what are you doing?! But, even though he's a seemingly arrogant, self obsessed character, deep down he's so endearing and kind. I loved watching his character blossom into his true feelings and shape his identity. I also loved how Percy's quiet and reserved personality complimented Monty's perfectly.
Not only is this a great book of adventure and love, it also integrates important topics into the plot, such as racism, sexism, feminism, sexuality and illness. Including these sensitive topics was a bold move by Mackenzi, but she tackles them brilliantly in my opinion. It's great that she included a bisexual character too. As this is a popular book it's great to see Bi-visibility being explored and celebrated – yay!
The only thing I would say about GGTVAV that I had a slight gripe with was the language used. Sometimes it did feel slightly overwritten and melodramatic. BUT, this is perfectly in keeping with Monty's character and if the language was less fluffy. I don't think I would have enjoyed the book as much. You really get a sense of Monty's character from it.
I think Mackenzi Lee is an absolutely brilliant writer, who has taken the time to study the genre and the historical period in which she writes about thoroughly. Although I cannot comment on the written grammar, punctuation and spelling as I have an audiobook, it sounded pretty spot on to me!
---
Final thoughts:

So. How can my review of GGTVAV do it justice? Well, it simply can't in my opinion. I can't explain how much I genuinely loved this book. It was a book I didn't realise I needed until it was over. I would read a whole series based on these characters, and I can't wait to read the book about Felicity when it's released.
Mackenzi Lee has quickly become one of my favourite authors and GGTVAV is definitely the best book I've read in the past 5 years, maybe longer. Bold statement I know – but it's true. It pulled me out of my post-uni reading slump, which lasted for over a year, and has sparked my true love for reading again, which I'm so grateful for.
I would definitely recommend this book to readers, especially if you enjoy YA books. I loved the representation of LGBTQIA+ characters and how important topics that are still a problem in today's society are reflected in this book.
If you get the chance to listen to the audio version of this book I would strongly suggest it!
---
Fancast:

If this book ever gets made into a film, I think that Sam Claflin would make a perfect Monty. I don't know why, but it was him who I imagined as Percy while listening to the book!
We'd like to once again thank Ashleigh for stopping by The Book Bratz today to post this guest review. You can read the original review over on her blog by clicking HERE!
** Psst! Interested in guest reviewing on The Book Bratz? Shoot us an email at thebookbratz@gmail.com or DM us on Twitter (@thebookbratz) and we'd love to have you!