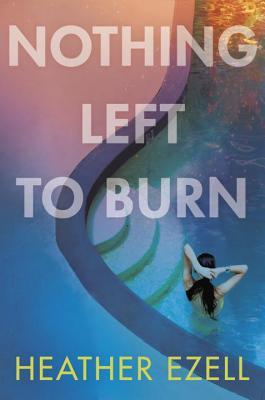 Title:
Nothing Left to Burn
Author: Heather Ezell
Publisher: Razorbill
Rating: 4/5 Stars
Hardcover, 320 Pages
Publication Date: March 13th, 2018
Summary:

The autumn morning after sixteen-year-old Audrey Harper loses her virginity, she wakes to a loud, persistent knocking at her front door. Waiting for her are two firemen, there to let her know that the moment she's been dreading has arrived: the enormous wildfire sweeping through Orange County, California, is now dangerously close to her idyllic gated community of Coto de Caza, and it's time to evacuate.

Over the course of the next twenty-four hours, as Audrey wrestles with the possibility of losing her family home, she also recalls her early, easy summer days with Brooks, the charming, passionate, but troubled volunteer firefighter who enchants Audrey--and who is just as enthralled by her. But as secrets from Brooks's dark past come to light, Audrey can't help but wonder if there's danger in the pull she feels--both toward this boy, and toward the fire burning in the distance.
I received an advanced copy of Nothing Left To Burn from author Heather Ezell herself in a giveaway, and I'm so glad that I did. I hadn't known anything about this book beforehand, but upon reading the summary, I was instantly intrigued. Living in a beach town, forest fires are something I've never experienced before -- I've also never been evacuated for any sort of natural disaster, so this book served as an insight on those experiences that I've never had, and these experiences both captivated and horrified me at the same time.
As the summary explains, Audrey wakes up the morning after losing her virginity to a mandatory evacuation notice. There's a forest fire blazing nearby, and her home is in danger, and it doesn't help that she's home alone and has to gather her family's important items and flee to a safe location. Among all of this, she is also battling out the intense and confusing feelings of the night before, all of which are gradually revealed to us throughout the entirety of the novel, told in alternating chapters that switch between present-time and moments beforehand, starting when Audrey met Brooks, her loving, adorable firefighter boyfriend.
But as I quickly found out as I kept reading, things between Brooks and Audrey are way more complicated than they seem, and while also battling the fire threatening to swallow up their homes, Audrey has to navigate the rocky territory of her past memories to piece together what exactly she's supposed to do.
This book gripped me from start to finish, and perhaps what captivated me the most was that the entirety of the real-time story is told over one single day, from 5am when Audrey wakes up to the evacuation call all the way to the end of the night when she has to make some pretty intense decisions. Throughout it all, we are given flashbacks that provide the reader with more history of her and Brooks, and things just get more and more complicated as the story progresses.
My favorite character in this story was Grace, who remained a steadfast and supportive friend even when Audrey was battling her own feelings and sometimes didn't act like the greatest friend around. She seemed to be the one to keep Audrey grounded when things seemed to be going south, and she was even the one who set her up with Brooks in the first place. So, yeah. She was really great to have in the story.
(Also, a brief aside: I found it really funny/coincidental that there are two characters in this book named Grace and Maya, while two of the siblings in the book I just finished a few days ago, Far From The Tree by Robin Benway, are also Grace & Maya! That was a little thing that made me smile a bit when I was reading. :-) )
The character I liked least in this book was definitely Brooks. (Audrey somewhat fell in the middle between Grace and Brooks. I didn't have very strong opinions on her either way.) He never seemed to keep his story straight and there were times that he said/did some pretty rude or nasty things to her that I kind of wanted to pull Audrey to the side and tell her to leave him. But then there were another moments where he was adorably sweet, and I found myself swooning over him a little bit. But throughout the entirety of the book, the one word that I can think of to describe Brooks is...weird. He acted weird and things felt a bit off throughout the whole book. That totally isn't a craft issue on Heather Ezell's behalf, because it seems like that's the intention she has, but just as a reader I was not a big fan of him -- and I don't think I was supposed to.
Major spoilers in this paragraph, so please skip to the next paragraph if you don't want the story ruined for you! Toward the end of the book I started to suspect the ending a little bit, so I wasn't super shocked when it was revealed that Brooks started the fire, but it was still a really interesting plot point that shook up the story. His obsession with fire was a clear hint from the beginning, and then I was horrified to find out that he burned the cats and even ended up killing his brother. The web of lies untangles really fast, and things start to pick up the pace super quickly, and I was flipping through the pages up until the very end.
More spoilers! Next paragraph, please! The only other thing I wish was that this book had been a little bit longer, because I had so many unanswered questions! It was hinted that Audrey lost her house, but then it's never really confirmed. I want to know if Brooks ended up dying or actually found a way out. What happens after Audrey tells the police. Finding/not finding Shadow. All of those things!!! I was left with so many unanswered questions and was kind of bummed about it when the book ended. I definitely would've at least enjoyed an epilogue that would've answered some of the pressing questions that I as a reader was left with.
Overall, I really enjoyed Nothing Left to Burn. If you're looking for a thrilling, mystery-esque novel to take up your time, this is certainly one I would recommend putting on your March TBR!
I'd like to once again thank author Heather Ezell for sending me a giveaway ARC of this book to review. I'm really glad I got the chance, and I'd definitely love to read more of her work in the future!