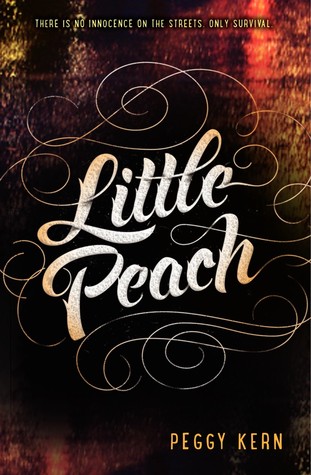 Title: Little Peach
Author: Peggy Kern
Rating: 4/5 Stars
Hardcover, 208 Pages
Publisher: HarperTeen/Balzer & Bray
Published March 2015
Add it on Goodreads!
Read Amber's Review
Summary: When Michelle runs away from her drug-addicted mother, she has just enough money to make it to New York City, where she hopes to move in with a friend. But once she arrives at the bustling Port Authority, she is confronted with the terrifying truth: she is alone and out of options. Then she meets Devon, a good-looking, well-dressed guy who emerges from the crowd armed with a kind smile, a place for her to stay, and eyes that seem to understand exactly how she feels. But Devon is not what he seems to be, and soon Michelle finds herself engulfed in the world of child prostitution where he becomes her "Daddy" and she his "Little Peach." It is a world of impossible choices, where the line between love and abuse, captor and savior, is blurred beyond recognition.
Amber recommended this book to me while it was still an ARC, but I haven't actually gotten around to reading it until now, a few months after its publication. The way Amber described Little Peach to me was simply that it horrified her so much that it was amazing. When I heard that, I said "Okaaaaaaay," thinking she needed to be checked into the nearest hospital. When I found out it was about sex trafficking and child prostitution, I said "Ahhhhhhh," and it made more sense.
So yes, this book will absolutely horrify you. But it will horrify you in the way that we sometimes need to be horrified. It seems like everyone's aware of sex trafficking, and child prostitution, and prostitution in general. We know that sometimes these young girls and women are forced into these situations, and these women we pass on the street and sneer internally at for being "skanky" or "low class" may only be doing what they're doing because somebody's forcing them and their life may be on the line. But do we do anything about it?
Of course not.
Little Peach follows the story of a young girl named Michelle (who is about fourteen years old for a majority of the novel, the part told in the present) who was born from a junkie mother. Even though her mother isn't the most suitable guardian, Michelle, dubbed "Punky" by her kindhearted grandfather, is cared for and loved immensely by him. But when a terrible tragedy takes him away, Michelle is forced back into solely her mother's "care" - even though care isn't the suitable word. Unable to take her home life anymore, and after her mother's not-so-shocking announcement that she wants Michelle to leave, Michelle runs off to the only place she could think of - New York City - following in the footsteps of a childhood friend who ran there to escape her own junkie mother years before.
The problem is, once Michelle gets to New York, the arrangements to be with her friend falls through. Broke, dirty, hungry, lonely, and scared, Michelle has hit a dead end, sitting in one of the biggest cities on the entire planet. She comes across a nicely dressed guy by the name of Devon, who takes her in, feeds her, and gives her an opportunity to have a family - but not without a cost. Devon is a pimp for the Bloods, and they all have to work. No matter the cost. No matter their pride. And if they leave...it will be seen to that they won't be able to walk past the front door.
This book is going to give me nightmares for years to come. Not because it's gory, or makes to squeamish, or anything like that - but because all of what goes on this book happens right smack in New York City, right under our very noses. It horrifies me to think that I've passed so many young girls and women on the street, women who fit the descriptions of this book, and I either never thought anything of them, or I was immediately weary and saw them as intentionally promiscuous. Michelle is only fourteen years old, and one of her "sisters," Baby, is only twelve - and the things they have to do - the things they're FORCED to do, are absolutely revolting.
All in all, Little Peach was a horrifying real read that shocked me just the way it should. This book opened my eyes to the struggles of the lower classes and made me feel less hostile towards prostitutes in general - as silly as it may seem reading it, I realize that some of these women are in trouble deeper than any of us can fix. Which is unacceptable. It needs to be fixed. And we're the generation that needs to fix it.
Peggy Kern blew me away with this book - I almost wish it was longer, so I could see more of what happened. This book will be on my mind for a long time to come, and rightfully so. Excellently done. I think that everybody needs to take a chance to pick up this book and educate themselves on the horror of what goes on right in our own cities, towns and neighborhoods - this book is an excellent eye-opener and I definitely think that everyone needs to give it a try. I'm about to head right over to my Goodreads account and send a book recommendation to everyone, because all of us in this generation need this eye-opener.
Rating: