"Waiting On Wednesday" is a weekly meme hosted by Breaking The Spine where we highlight some of the upcoming books we can't wait to read!

Amber's Waiting On:
Title: The Dead Girls of Hysteria Hall
Author: Katie Alender
Genre: Horror, Paranormal
Publisher: Point
Publication Date: August 25th 2015
Summary:
Delia's new house isn't just a house. It used to be an insane asylum, a place to lock up "troubled" young women long ago. And a restless, wicked spirit is still at play--and it doesn't want defiant girls like Delia to go anywhere. So the house kills her. Now Delia is a ghost, trapped in her creepy home forever. As she meets the other ghost girls who haunt the narrow hallways, as well as the handsome ghost boy on the grounds, she learns shocking truths about the house's history. Delia also realizes that her alive and grieving sister might be the house's next target. Can Delia unlock the mystery of the old asylum, save her sister, and free herself?
I loved Katie's Bad Girls Don't Die series and was thrilled when I saw that she was publishing another horror story. Super excited!
Jessica's Waiting On: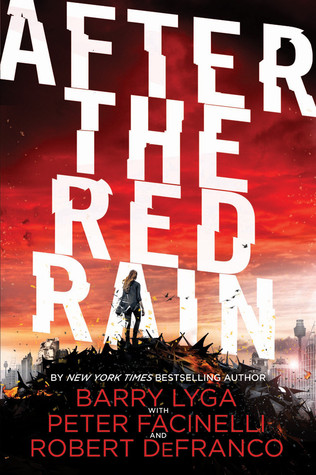 Title: After the Red Rain
Authors: Barry Lyga, Peter Facinelli and Robert DeFranco
Publisher: Little, Brown Books
Publication: August 4th 2015
Summary: On the ruined planet Earth, where 50 billion people are confined to megacities and resources are scarce, Deedra has been handed a bleak and mundane existence by the Magistrate she works so hard for. But one day she comes across a beautiful boy named Rose struggling to cross the river--a boy with a secretive past and special abilities, who is somehow able to find comfort and life from their dying planet.

But just as the two form a bond, it is quickly torn apart after the Magistrate's son is murdered and Rose becomes the prime suspect. Little do Deedra and Rose know how much their relationship will affect the fate of everyone who lives on the planet.
I'm super excited for this book because not only does the summary make it sound super cool and suspenseful, but also because both of my parents went to high school with Peter Facinelli so we're all curious to see how good of a writer he is! (Since they had the same English teacher and everything - they're hoping that he's been taught well. xD) All in all this book sounds super cool!!
What are you waiting on this week? Leave your link so we can stop back!