Welcome to our fourth official post of Cover Tells All! This is a weekly meme that we created that we feel everyone is going to absolutely love. Here's how it works: We sit down with some of our friends and family and show them a few book covers that they've never seen before. The people we ask are not big readers and do not have any access to the internet or anything other than their own imaginations. Looking only at the cover of the book, they have to tell us (in the most detail possible) what they think that the plot is about. This is super fun because some people actually guess super correctly, and some answers are so wacky that they're just hard to believe. So on every Saturday we will be putting up a new #CoverTellsAll post with an interview with a whole new person! So the question remains - CAN you judge a book by it's cover?
*Note: The answers posted here are word-for-word what our friends and family guessed!
Today we have Jessica's dad Anthony here for our fourth-ever #CoverTellsAll post! He's an actual detective in real life, so he analyzed these covers super closely.
Sword and Verse by Kathy MacMillan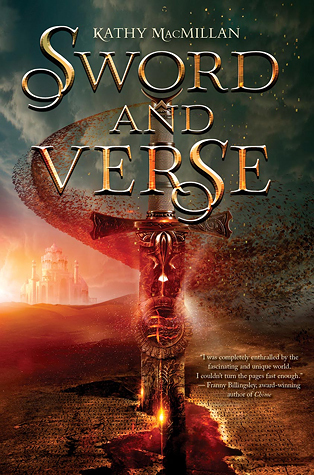 Anthony's Summary:
Sword and Verse - obviously I would say that it's definitely a mythical fiction story. I would guess that the sword has something to do with certain scriptures or prophecies or written words that the sword would pertain to.
Actual Summary:
Raisa was just a child when she was sold to work as a slave in the kingdom of Qilara. Despite her young age, her father was teaching her to read and write, grooming her to take his place as a Learned One. In Qilara, the Arnathim, like Raisa, are the lowest class, and literacy is a capital offense. What's more, only the king, prince, tutor, and tutor-in-training are allowed to learn the very highest order language, the language of the gods. So when the tutor-in-training is executed for teaching slaves this sacred language, and Raisa is selected to replace her, Raisa knows any slipup on her part could mean death.
Keeping her secret is hard enough, but the romance that's been growing between her and Prince Mati isn't helping matters. Then Raisa is approached by the Resistance—an underground army of slave rebels—to help liberate Arnath slaves. She wants to free her people, but that would mean aiding a war against Mati. As Raisa struggles with what to do, she discovers a secret that the Qilarites have been hiding for centuries—one that, if uncovered, could bring the kingdom to its knees.
Our Judgement:
He was right about there being a mythical and fiction element to it, but he wasn't close with any of the details. That's okay though, because this was a pretty tough cover to get detailed with!
Other Broken Things by Chirsta Desir
Anthony's Summary:
I definitely think that this book is about human flaws that plague us all. I think that it's about somebody that's struggling with addiction and all of the things in his or her life that bring her to the addiction and all of the collateral damage it causes -- I think there's resilience, high power, fear, obsession, and addiction. Clearly depression, tattoos, marking yourself, etc. Definitely some rehab in there -- the inner turmoil that brings you to alcohol abuse.
Actual Summary:
Nat's not an alcoholic. She doesn't have a problem. Everybody parties, everybody does stupid things, like get in their car when they can barely see. Still, with six months of court-ordered AA meetings required, her days of vodka-filled water bottles are over.
Unfortunately her old friends want the party girl or nothing. Even her up-for-anything ex seems more interested in rehashing the past than actually helping Nat.
But then a recovering alcoholic named Joe inserts himself into Nat's life and things start looking up. Joe is funny, smart, and calls her out in a way no one ever has.
He's also older. A lot older.
Nat's connection to Joe is overwhelming but so are her attempts to fit back into her old world, all while battling the constant urge to crack a bottle and blur that one thing she's been desperate to forget.
Now in order to make a different kind of life, Natalie must pull together her broken parts and learn to fight for herself.
Our Judgement:
He did a good job of actually analyzing all of the words on the cover and coming to a conclusion. He really ended up being right about the addiction and rehab aspect (more like AA meetings), and the alcoholism. So this one was pretty good!
No Place to Fall by Jaye Robin Brown
Anthony's Summary:
I'm going to guess that it's a young girl from the Midwest - a very rural area. She probably has small-town fever and is itching to get out. Her big dream can be anything, such as a grand future like moving on to bigger and brighter dreams. I would guess that the term "No Place to Fall" means that she's treating her ambitions as naive or childish or unattainable, but she refuses to give up.
Actual Summary:
Amber Vaughn is a good girl. She sings solos at church, babysits her nephew after school, and spends every Friday night hanging out at her best friend Devon's house. It's only when Amber goes exploring in the woods near her home, singing camp songs with the hikers she meets on the Appalachian Trail, that she feels free—and when the bigger world feels just a little bit more in reach.
When Amber learns about an audition at the North Carolina School of the Arts, she decides that her dream—to sing on bigger stages—could also be her ticket to a new life. Devon's older (and unavailable) brother, Will, helps Amber prepare for her one chance to try out for the hypercompetitive arts school. But the more time Will and Amber spend together, the more complicated their relationship becomes . . . and Amber starts to wonder if she's such a good girl, after all.
Then, in an afternoon, the bottom drops out of her family's world—and Amber is faced with an impossible choice between her promise as an artist and the people she loves. Amber always thought she knew what a good girl would do. But between "right" and "wrong," there's a whole world of possibilities.
Our Judgement:
My dad was actually really close with this one! He nailed the Midwest and big dream aspect, which was pretty impressive because this cover doesn't give you much to work with but he still found a way to make it connect.
The Rules for Disappearing by Ashley Elston
Anthony's Summary:
This girl has no shoes on while she's running away, so she's either carefree or in a rush. The flowers on the ground show that she maybe is running from a relationship. For whatever reason she has to run constantly, she can never get into a real, deep relationship with anybody because she is always on the move.
Actual Summary:
She's been six different people in six different places: Madeline in Ohio, Isabelle in Missouri, Olivia in Kentucky . . . But now that she's been transplanted to rural Louisiana, she has decided that this fake identity will be her last.
Witness Protection has taken nearly everything from her. But for now, they've given her a new name, Megan Rose Jones, and a horrible hair color. For the past eight months, Meg has begged her father to answer one question: What on earth did he do – or see – that landed them in this god-awful mess? Meg has just about had it with all the Suits' rules — and her dad's silence. If he won't help, it's time she got some answers for herself.
But Meg isn't counting on Ethan Landry, an adorable Louisiana farm boy who's too smart for his own good. He knows Meg is hiding something big. And it just might get both of them killed. As they embark on a perilous journey to free her family once and for all, Meg discovers that there's only one rule that really matters — survival.
Our Judgement:
His guess may not have been entirely right, but my dad did get the fact that a girl was running from a crisis, and it would affect her ability to form relationships. So I was impressed that he got those facts right!
Afterworlds by Scott Westerfeld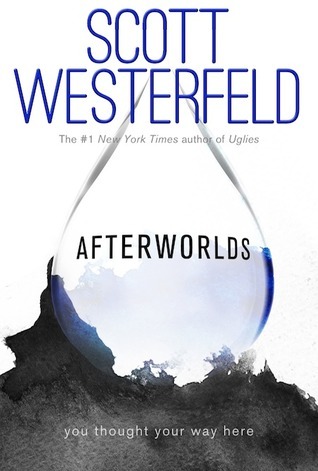 Anthony's Summary:
This book can be some sort of science fiction or fantasy. I thought it would be something dystopian, but as I look at it more, I don't think so. I think it's two separate parallel worlds where one writes the story and the other is living it.
Actual Summary:
Darcy Patel has put college and everything else on hold to publish her teen novel, Afterworlds. Arriving in New York with no apartment or friends she wonders whether she's made the right decision until she falls in with a crowd of other seasoned and fledgling writers who take her under their wings…
Told in alternating chapters is Darcy's novel, a suspenseful thriller about Lizzie, a teen who slips into the 'Afterworld' to survive a terrorist attack. But the Afterworld is a place between the living and the dead and as Lizzie drifts between our world and that of the Afterworld, she discovers that many unsolved - and terrifying - stories need to be reconciled. And when a new threat resurfaces, Lizzie learns her special gifts may not be enough to protect those she loves and cares about most.
Our Judgement:
This one shocked me beyond belief! As my dad was telling me what he thought and I was writing it down, I was trying really hard not to smile and give away the fact that he was dead right. This one is definitely a ten out of a ten answer-wise! I was super impressed with my dad's ability to guess this one.
All in all, my dad seemed to get 4/5 of the book covers at least semi-correct. I guess that was to be expected, being that his profession is based around analyzing facts and forming cases and stories. I'm very impressed and he's glad that he did so well, too! We're also super exciting to be doing this every week, so comment down below with who you think we should ask next! Our sisters? Parents? Teachers? What do you guys want to see? Let us know, and thank you so much for taking the time to check out our third Cover Tells All post! What did you think of it?