"Waiting On Wednesday" is a weekly meme hosted by Breaking The Spine where we highlight some of the upcoming books we can't wait to read!
Amber's Waiting On: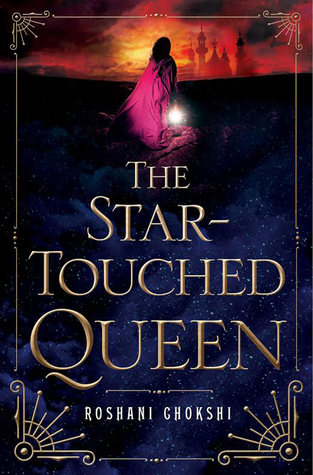 Title: The Star-Touched Queen
Author: Roshani Choski
Genre: Fantasy
Publisher: St. Martin's Griffin
Expected Publication Date: May 3rd 2016
Summary:
Cursed with a horoscope that promises a marriage of Death and Destruction, sixteen-year-old Maya has only earned the scorn and fear of her father's kingdom. Content to follow more scholarly pursuits, her world is upheaved when her father, the Raja, arranges a wedding of political convenience to quell outside rebellions. But when her wedding takes a fatal turn, Maya becomes the queen of Akaran and wife of Amar. Yet neither roles are what she expected. As Akaran's queen, she finds her voice and power. As Amar's wife, she finds friendship and warmth. But Akaran has its own secrets - thousands of locked doors, gardens of glass, and a tree that bears memories instead of fruit. Beneath Akaran's magic, Maya begins to suspect her life is in danger. When she ignores Amar's plea for patience, her discoveries put more than new love at risk - it threatens the balance of all realms, human and Otherworldly. Now, Maya must confront a secret that spans reincarnated lives and fight her way through the dangerous underbelly of the Otherworld if she wants to protect the people she loves. THE STAR-TOUCHED QUEEN is a lush, beautifully written and vividly imagined fantasy inspired by Indian mythology.
Why?
As part of our Debut feature this year The New Authors on The Block, Roshani and The Star-Touched Queen will be featured on our blog starting the first Sunday of may and ending on the last Sunday in May.
There are so many elements of this book that make me desperately want it! The magic, Idian mythology, and high fantasy! May can't come soon enough :D
Jessica's Waiting On:
Author: Isabel Bandiera
Publisher: Spencer Hill
Publication: January 12th 2016
Summary: In a perfect world, sixteen-year-old Phoebe Martins' life would be a book. Preferably a YA novel with magic and a hot paranormal love interest. Unfortunately, her life probably wouldn't even qualify for a quiet contemporary. But when Phoebe finds out that Dev, the hottest guy in the clarinet section, might actually have a crush on her, she turns to her favorite books for advice. Phoebe overhauls her personality to become as awesome as her favorite heroines and win Dev's heart. But if her plan fails, can she go back to her happy world of fictional boys after falling for the real thing?
The summary for this book seems absolutely adorable, and I follow the author on Twitter and her Tweets make me laugh -- which is actually what made me go check out her book. So now I'm super excited to get my hands on this book to read Phoebe's story! Just a few more days until pub day!!
What are you waiting on this week? Leave us your links so we can stop back!