Welcome to Cover Tells All! This is a weekly meme that we created that we feel everyone is going to absolutely love. Here's how it works: We sit down with some of our friends and family and show them a few book covers that they've never seen before. The people we ask are not big readers and do not have any access to the internet or anything other than their own imaginations. Looking only at the cover of the book, they have to tell us (in the most detail possible) what they think that the plot is about. This is super fun because some people actually guess super correctly, and some answers are so wacky that they're just hard to believe. So on every Saturday we will be putting up a new #CoverTellsAll post with an interview with a whole new person! So the question remains - CAN you judge a book by it's cover?
*Note: The answers posted here are word-for-word what our friends and family guessed!
Today we have our friend Emily here!
The Shadow Queen by C.J. Redwine
Emily's Summary:
Okay so this definitely looks like a Snow White/Save The World situation. I'm gonna guess and say the main character is a girl who's some type of servant. Some hot dude is gonna come to her in the night and tell her she's a relative of a royal bloodline and she's next in line for princess. When she leaves to go to the castle (or wherever the royal family lives) the queen is evil and is planning something (what, I don't know, but it's bad). She ends up falling in love with the guy who came to get her and he helps her dethrone the queen.
Actual Summary:
Lorelai Diederich, crown princess and fugitive at large, has one mission: kill the wicked queen who took both the Ravenspire throne and the life of her father. To do that, Lorelai needs to use the one weapon she and Queen Irina have in common—magic. She'll have to be stronger, faster, and more powerful than Irina, the most dangerous sorceress Ravenspire has ever seen.
In the neighboring kingdom of Eldr, when Prince Kol's father and older brother are killed by an invading army of magic-wielding ogres, the second-born prince is suddenly given the responsibility of saving his kingdom. To do that, Kol needs magic—and the only way to get it is to make a deal with the queen of Ravenspire, promise to become her personal huntsman…and bring her Lorelai's heart.
But Lorelai is nothing like Kol expected—beautiful, fierce, and unstoppable—and despite dark magic, Lorelai is drawn in by the passionate and troubled king. Fighting to stay one step ahead of the dragon huntsman—who she likes far more than she should—Lorelai does everything in her power to ruin the wicked queen. But Irina isn't going down without a fight, and her final move may cost the princess the one thing she still has left to lose.
Our Judgement:
Emily actually picked up on the Snow White sort of aspect right away - and the same with the part about taking down the queen! Very impressive for her first try.
Firsts by Laurie Elizabeth Flynn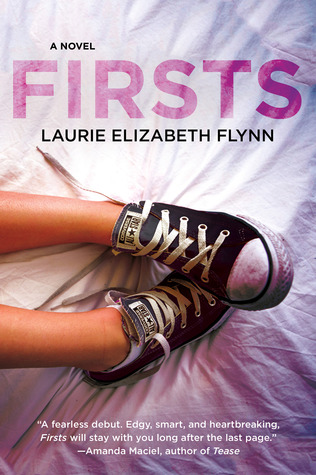 Emily's Summary:
Okay so this is most likely a girl who's the new girl at school. She's never really been popular at her old school and never tried anything. So now she's determined to change that. She gets her first boyfriend, first kiss, first party, first drink, and so on. Until something happens and everyone hates her.
Actual Summary:
Seventeen-year-old Mercedes Ayres has an open-door policy when it comes to her bedroom, but only if the guy fulfills a specific criteria: he has to be a virgin. Mercedes lets the boys get their awkward, fumbling first times over with, and all she asks in return is that they give their girlfriends the perfect first time- the kind Mercedes never had herself.
Keeping what goes on in her bedroom a secret has been easy- so far. Her absentee mother isn't home nearly enough to know about Mercedes' extracurricular activities, and her uber-religious best friend, Angela, won't even say the word "sex" until she gets married. But Mercedes doesn't bank on Angela's boyfriend finding out about her services and wanting a turn- or on Zach, who likes her for who she is instead of what she can do in bed.
When Mercedes' perfect system falls apart, she has to find a way to salvage her reputation and figure out where her heart really belongs in the process.
Our Judgement:
Emily strayed a little off topic for this one, but this was a tricky one so we didn't expect her to get the entire thing right. She is right about something bad happening and everyone starting to hate her, even if it's not for the reasons that Emily predicted.
Firstlife by Gena Showalter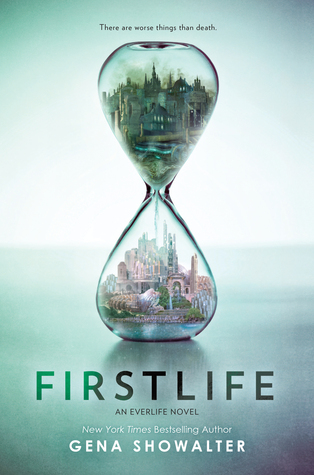 Emily's Summary:
Okay so this girl dies trying to save the world somehow but isn't actually dead (if that makes any sense). She ends up in this picture perfect afterworld where everything is perfect until someone who isn't supposed to show up shows up. And this perfect afterlife ends up like Hell. She now needs to save the afterlife.
Actual Summary:
Tenley "Ten" Lockwood is an average seventeen-year-old girl…who has spent the past thirteen months locked inside the Prynne Asylum. The reason? Not her obsession with numbers, but her refusal to let her parents choose where she'll live—after she dies.
There is an eternal truth most of the world has come to accept: Firstlife is merely a dress rehearsal, and real life begins after death.
In the Everlife, two realms are in power: Troika and Myriad, longtime enemies and deadly rivals. Both will do anything to recruit Ten, including sending their top Laborers to lure her to their side. Soon, Ten finds herself on the run, caught in a wild tug-of-war between the two realms who will do anything to win the right to her soul. Who can she trust? And what if the realm she's drawn to isn't home to the boy she's falling for? She just has to stay alive long enough to make a decision...
Our Judgement:
Even if she was a little bit off with this one, Emily was able to distinguish the afterlife aspect of this book, which is super impressive. Great job!
This is Where it Ends by Marieke Nijkamp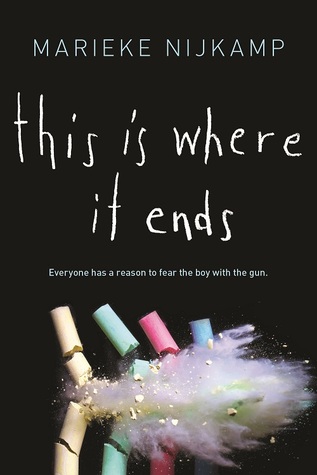 Emily's Summary:
Okay so I feel like this is about a schizophrenic boy. He's trying to get his life together but this other guy keeps following him everywhere he goes. Even his home. Little does he know that he isn't real. He's like the devil on his shoulder and talks him into shooting someone.
Actual Summary:
The principal of Opportunity, Alabama's high school finishes her speech, welcoming the entire student body to a new semester and encouraging them to excel and achieve.
The students get up to leave the auditorium for their next class.
The auditorium doors won't open.
Told over the span of 54 harrowing minutes from four different perspectives, terror reigns as one student's calculated revenge turns into the ultimate game of survival.
Our Judgement:
Since this one is about a school shooting, Emily was a tiny bit off, but she still got the main aspect of the book correct.
Been Here All Along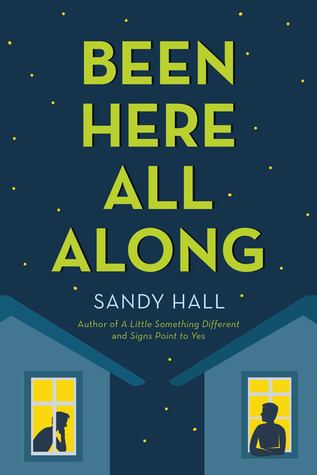 Emily's Summary:
Okay. I don't want to offend anyone but I think it's about a gay couple. They have been neighbors their whole life but were never friends. So something happens and they end up meeting and falling in love but neither of their parents approve and it's this whole ordeal to get their parents to love them for who they are.
Actual Summary:
Gideon always has a plan. His plans include running for class president, becoming head of the yearbook committee, and having his choice of colleges. They do NOT include falling head over heels for his best friend and next door neighbor, Kyle. It's a distraction. It's pointless, as Kyle is already dating the gorgeous and popular head cheerleader, Ruby. And Gideon doesn't know what to do.
Kyle finally feels like he has a handle on life. He has a wonderful girlfriend, a best friend willing to debate the finer points of Lord of the Rings, and social acceptance as captain of the basketball team. Then, both Ruby and Gideon start acting really weird, just as his spot on the team is threatened, and Kyle can't quite figure out what he did wrong…
Our Judgement:
Emily picked up on the gay love story right away, being neighbors forever, and the aspect about people not accepting their relatipship. So she did a great job!
Overall, Emily did a good job of picking out key aspects of the coveres to create her summaries, and she was at least somewhat close with all of them, which was super impressive! We're also super exciting to be doing this every week, so comment down below with who you think we should ask next! Our sisters? Parents? Teachers? What do you guys want to see? Let us know, and thank you so much for taking the time to check out our Cover Tells All post! What did you think of it?