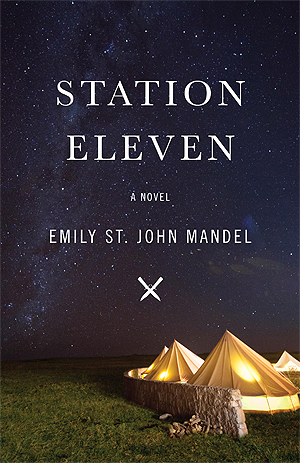 Title:
Station Eleven
Author: Emily St. John Mandel
Publisher:
Knopf
My Rating: 4/5 Stars
Summary:

One snowy night a famous Hollywood actor slumps over and dies onstage during a production of King Lear. Hours later, the world as we know it begins to dissolve. Moving back and forth in time-from the actor's early days as a film star to fifteen years in the future, when a theater troupe known as the Traveling Symphony roams the wasteland of what remains - this suspenseful, elegiac, spellbinding novel charts the strange twists of fate that connect five people: the actor, the man who tried to save him, the actor's first wife, his oldest friend, and a young actress with the Traveling Symphony, caught in the crosshairs of a dangerous self-proclaimed prophet.
I hadn't heard much about this book before it was chosen by my school's creative writing club for our fall semester book club read, but the minute I picked it up, I was suddenly aware how everyone around me was talking about it all of the time. Even some of my professors mentioned it in my classes, and that was when I realized that I was about to start something super great, especially if people around me weren't able to stop singing their praises about it.
And let me just say, once I started this book, I was quickly hooked. I'm already done with the book and we aren't even discussing the ending of it until our meeting in December. I just couldn't stop turning the pages, and I always wanted to know what happened next! I was very fascinated with the way civilization seemed to have ended through the spread of the virus, rather than something like a war or a zombie takeover. Seeing how quickly the virus incubated and wiped whole cities and countries off of the map was both shocking and a little terrifying -- I can definitely say that I have used a LOT more hand sanitizer since I finished this book. I also enjoyed seeing how the surviving civilians managed to keep themselves alive -- I've always been a big fan of survival books, people being stranded on desert islands, etc. I like to see the creative way that they make things work. (Although I hopefully won't need to ever exercise any of their tactics myself!)
What I enjoyed most about this book was definitely all of the varying perspectives, timelines, and insights into each character's story that left me hooked and always wanting to turn the next page. This book told the story from so many perspectives, but just a few of the main ones were Arthur, the famous actor who died of a heart attack on stage the night that the entire world fell apart, Jeevan, the man who tried to save him and then in turn ended up being one of the first people to know about the virus, Miranda, Arthur's first wife and the creator of the comics that would be prevalent throughout the entire story and then in turn end up inspiring the title of the book, and even Kirsten, a child-actor-turned-traveling-actress who witnessed Arthur's tragic last night and everything that came after it. It was really interesting to see how everyone's stories intersected, especially since I was a little bit confused and unclear when the book began -- I wasn't sure how everyone's stories fit together, but as time went on, more and more threads became revealed and things started to make sense, and by the end of the book, I was surprised at how neatly everything had come full-circle. The arc of this story is definitely excellent, that's for sure.
(Spoilers ahead, so please skip to the next paragraph if you haven't read this book yet and don't want it spoiled for you!) The part of this book that really shocked me was when I found out that the prophet was Tyler. It was revealed very slowly, and I actually hadn't put all of the clues together until the very end, and once I found it all out, I was absolutely shocked. I immediately texted the other members of our book club (not spoiling who it was!), just having to get my shock out into words somehow. I think Emily St. John Mandel did a great job with that plot twist and caught the reader off guard without making it too far out of left field, because upon going back to the story, I realized that there had been super-subtle clues that I had missed that left me surprised in the end.
There was very little I disliked about this book, other than the fact that it was in third person and thus sometimes made it hard to figure out who was talking in that moment, since it would sometimes even change within a few pages, not just chapters. But after a few chapters in, I managed to get a feel for the writing and the book's flow, and it started to make sense. But the first few chapters were definitely a little difficult for me as I got into that method of thinking. Other than that, this book was really, really good.
Overall, I'm incredibly grateful that I was given the opportunity to read this book with our creative writing club, because it opened me up to such an incredible read that I will now be recommending to everybody I know! If you're looking for a read that incorporates everything from love to loss to apocalypse to biological disaster and survival and even the arts, this book is certainly one for you. I can't believe I hadn't heard of this before, and now I'll be recommending it to everybody that I think would be interested in it, because this is the type of book that needs to be read -- there's a reason it was in the running for all the awards that it was!
Hats off to Station Eleven by Emily St. John Mandel! Now, if you'll excuse me, I'll be sanitizing my hands and hiding out for the rest of eternity, because I am in no mood to contract the Georgia Flu.