"Waiting On Wednesday" is a weekly meme hosted by

Breaking The Spine

where we highlight some of the upcoming books we can't wait to read!
This week Amber is waiting on.....
Title: The Haunted
Author: Danielle Vega
Genre: Horror, Fantasy
Publisher: Razorbill
Publication Date:
June 4th 2019
Summary:
From Danielle Vega, YA's answer to Stephen King, comes a new paranormal novel about dark family secrets, deep-seated vengeance, and the horrifying truth that evil often lurks in the unlikeliest of places Hendricks Becker-O'Malley is new in town, and she's bringing baggage with her. With a dark and wild past, Hendricks doesn't think the small town her parents moved her to has much to offer her in terms of excitement. She plans on laying low, but when she's suddenly welcomed into the popular crowd at school, things don't go as expected. Hendricks learns from her new friends that the fixer-upper her parents are so excited about is notorious in town. Local legend says it's haunted. Hendricks doesn't believe it. Until she's forced to. Blood-curdling screams erupt from the basement, her little brother wakes up covered in scratches, and something, or someone pushes her dad down the stairs. With help from the mysterious boy next door, Hendricks makes it her mission to take down the ghosts . . . if they don't take her first.
I haven't read a good horror book in so long and it seems like The Haunted is going to fix that. I am a sucker for hauntings but there aren't many good horror books out there from my searching. June can't come fast enough!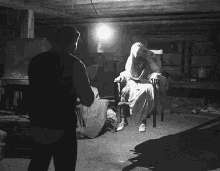 What are you waiting on this week? Leave your links so we can stop back!