Hi everyone! We have some exciting news for you today here at The Book Bratz -- we're launching our 2019 Summer Bundle Giveaway! We have three (3!) sets of bundles to give away, across three of our platforms -- Twitter, Instagram, and the blog! Each bundle contains a copy of two recent YA releases -- NO PLACE LIKE HERE by Christina June, and WE WERE BEAUTIFUL by Heather Hepler, courtesy of the lovely team over at Blink YA! We have some more information about each of the books down below, as well as information on how to enter the giveaway from here on the blog, as well as our other social platforms! So without further ado, let's get into it. (Also, this giveaway is unfortunately US only, but stay tuned for future INT giveaways!)

All three giveaways end on 7/1 @ 12am EST!

#sweepstakesentry #sponsored
BLOG GIVEAWAY:
To enter the giveaway from here on the blog, use the Rafflecopter link below and complete as many of those tasks as you wish to gain more entry points!
OTHER WAYS TO ENTER:
ABOUT THE BOOKS:
Title: No Place Like Here
Author: Christina June
Publisher: Blink YA
Paperback, 288 Pages
Published May 2019
Summary: Ashlyn Zanotti has big plans for the summer. She's just spent a year at boarding school and can't wait to get home. But when Ashlyn's father is arrested for tax evasion and her mother enters a rehab facility for "exhaustion," a.k.a. depression, her life is turned upside down.

The cherry on top? Ashlyn's father sends her to work with a cousin she doesn't even know at a rustic team-building retreat center in the middle of nowhere. A self-proclaimed "indoor girl," not even Ash's habit of leaving breadcrumb quotes—inspirational sayings she scribbles everywhere—can help her cope.

With a dangerously careless camp manager doling out grunt work, an overbearing father trying to control her even from prison, and more than a little boy drama to struggle with, the summer is full of challenges. And Ashlyn must make the toughest decision of her life: keep quiet and follow her dad's marching orders, or find the courage to finally stand up to her father to have any hope of finding her way back home.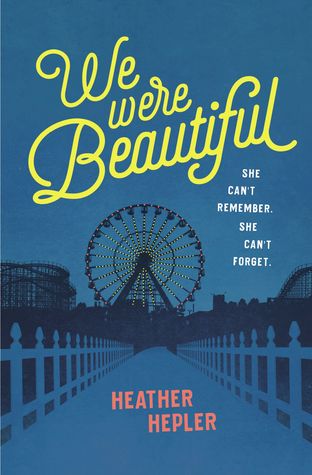 Title:
We Were Beautiful
Author: Heather Hepler
Publisher: Blink YA
Paperback, 299 Pages
Published April 2019
Summary:

It's been a year since fifteen-year-old Mia Hopkins was in the car crash that killed her older sister and left her terribly scarred. The doctors tell her she was lucky to survive. Her therapist says it will take time to heal. The police reports claim there were trace amounts of alcohol in her bloodstream. But no matter how much she tries to reconstruct the events of that fateful night, Mia's memory is spotty at best. She's left with accusations, rumors, and guilt so powerful it could consume her.

As the rest of Mia's family struggles with their own grief, Mia is sent to New York City to spend the summer with a grandmother she's never met. All Mia wants to do is hide from the world, but instead she's stuck with a summer job in the bustling kitchens of the cafe down the street. There she meets Fig--blue-haired, friendly, and vivacious--who takes Mia under her wing. As Mia gets to know Fig and her friends--including Cooper, the artistic boy who is always on Mia's mind--she realizes that she's not the only one with a painful past.

Over the summer, Mia begins to learn that redemption isn't as impossible as she once thought, but her scars inside run deep and aren't nearly so simple to heal ... especially when Mia finally pieces together her memories of the night Rachel died.
Have any more questions? Feel free to comment down below or email us at thebookbratz@gmail.com and we'll get back to you ASAP. Now, go ahead and enter the giveaway on Twitter and Instagram as well to increase your chances! Best of luck! We'd also like to thank the incredible team over at Blink YA for sending us these books to read and then give away! <3
#sweepstakesentry #sponsored