"Waiting On Wednesday" is a weekly meme hosted by Breaking The Spine.
Amber's Waiting On: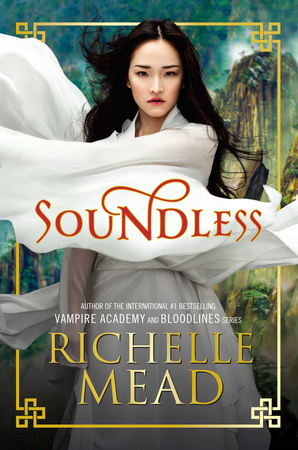 Title: Soundless
Author: Richelle Mead
Genre: Fantasy
Publisher: Razorbill
Publication Date: November 17th, 2015
Summary:
For as long as Fei can remember, there has been no sound in her village, where rocky terrain and frequent avalanches prevent residents from self-sustaining. Fei and her people are at the mercy of a zipline that carries food up the treacherous cliffs from Beiguo, a mysterious faraway kingdom. When villagers begin to lose their sight, deliveries from the zipline shrink and many go hungry. Fei's home, the people she loves, and her entire existence is plunged into crisis, under threat of darkness and starvation. But soon Fei is awoken in the night by a searing noise, and sound becomes her weapon.
Holy crap. Another Richelle Mead book?! Yes please. Who do I give my money to?
Jessica's Waiting On:
Publication Date: March 31st, 2015
Summary:
To make Oz a free land again, Amy Gumm was given a mission: remove the Tin Woodman's heart, steal the Scarecrow's brain, take the Lion's courage, and then Dorothy must die.... But Dorothy still lives. Now the Revolutionary Order of the Wicked has vanished, and mysterious Princess Ozma might be Amy's only ally. As Amy learns the truth about her mission, she realizes that she's only just scratched the surface of Oz's past—and that Kansas, the home she couldn't wait to leave behind, may also be in danger. In a place where the line between good and evil shifts with just a strong gust of wind, who can Amy trust—and who is really Wicked?
I am so excited for this book! I met Danielle Paige at BookCon 2014 and got a copy of Dorothy Must Die there, which was great because I was so ecstatic about reading it. Needless to say, I absolutely LOVED it and I can't wait to get my hands on this second book! Not long to go! (Not to mention, the title is also pretty ominous and cool!)
What are you waiting on this week? Leave your links so we can stop back!