"Waiting On Wednesday" is a weekly meme hosted by Breaking The Spine where we highlight some of the upcoming books we can't wait to read! Plus, a very special happy birthday to Amber, 1/2 of The Book Bratz!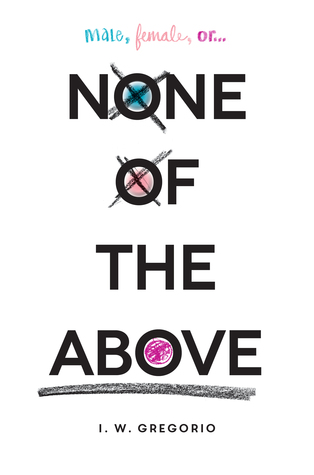 Title: None of the Above
Author: I.W. Gregorio
Expected Publication Date: April 7th, 2015
Genre: Contemporary
Publisher: Balzer + Bray
Summary: What if everything you knew about yourself changed in an instant?

When Kristin Lattimer is voted homecoming queen, it seems like another piece of her ideal life has fallen into place. She's a champion hurdler with a full scholarship to college and she's madly in love with her boyfriend. In fact, she's decided that she's ready to take things to the next level with him.

But Kristin's first time isn't the perfect moment she's planned--something is very wrong. A visit to the doctor reveals the truth: Kristin is intersex, which means that though she outwardly looks like a girl, she has male chromosomes, not to mention boy "parts."

Dealing with her body is difficult enough, but when her diagnosis is leaked to the whole school, Kristin's entire identity is thrown into question. As her world unravels, can she come to terms with her new self?
I'm so excited for this book because it's something different. Every book nowadays seems to be about vampires or love triangles or insta-love. Don't get me wrong, I adore love triangles and vampires (not so much insta-love), but I've been looking for something new. And this is totally it. I.W. Gregorio is going to cover a whole new base with this book in the YA world, and everyone's more than ready for it. This is going to be a book that brings to light some serious problems that really do happen to people, and it's something new that I don't know much about, so I'm really looking forward to picking this one up!
What are you waiting on this week? Leave your link in the comment section below so we can drop by and visit your Waiting on Wednesday post!