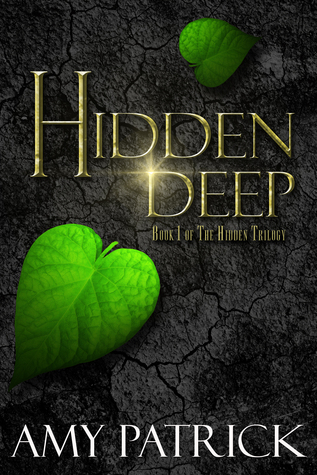 Title: Hidden Deep (Hidden, #1)
Author: Amy Patrick
Rating: 3/5 Stars
Paperback, 319 Pages
Expected Publication Date: March 23rd, 2015
Summary: Sixteen-year-old Ryann Carroll has just run into the guy who saved her life ten years ago. You might think she'd be happy to see him again. Not exactly. She's a bit underdressed (as in skinny-dipping) and he's not supposed to exist.

After her father's affair, all Ryann wants is to escape the family implosion fallout and find a little peace. She also wouldn't mind a first date that didn't suck, but she's determined not to end up like her mom: vulnerable, betrayed, destroyed. Ryann's recently moved back to her childhood home in rural Mississippi, the same place where ten years earlier she became lost in the woods overnight and nearly died.

She's still irresistibly drawn to those woods. There she encounters the boy who kept her from freezing to death that long ago winter night and was nowhere to be seen when rescuers arrived. He's still mysterious, but now all grown-up and gorgeous, too. And the more she's with him, the greater the threat he poses to Ryann's strict policy-- never want someone more than he wants you.

Seventeen-year-old Lad knows the law of his people all too well: Don't get careless and Don't get caught. It's allowed his race to live undetected in this world for thousands of years, mentioned only in flawed and fading folklore…

Lad's never been able to forget about Ryann since that night ten years ago. When he sees her again, his fascination re-ignites and becomes a growing desire that tempts him to break all the rules. He's not even supposed to talk to a human, much less fall in love with one.

And the timing is atrocious. The Assemblage is coming, the rift between the Light and Dark is widening, and mysterious celebrity fan pods are becoming more and more widespread and influential. Lad may have to trade his own chance at happiness to keep the humans, especially Ryann, blissfully unaware and safe.
I've never been a big fantasy fan when it comes to YA (I'm more of a contemporary kind of girl), but this book definitely exceeded my expectations and kept me hooked. I received a digital copy of Hidden Deep from author Amy Patrick in exchange for an honest review, and I'm honestly very glad that she decided to reach out to me.
First of all, Lad is this dreamy hunk of a guy that Ryann happens to stumble upon when she takes a nice, refreshing skinny-dip in the lake on her property. But that isn't all - Lad is supposedly the boy who saved her life ten years ago as a little girl. The boy that the doctors and her family convinced her that she imagined. The boy that wasn't supposed to exist.
I really got into this story, and every time I reached the end of a chapter I couldn't resist going onto the next one. (So, needless to say, some chores and homework were neglected during this reading process.)
Update: Oh man I'm trying so hard to talk about this book without spoiling anything for you guys!!!!!!! :((((
So, Ryann and Lad immediately hit it off. But it turns out that there are two problems with that. One, one of the hottest guys in Ryann's small Southern town has the hots for her. And she's in total denial. Two, Lad isn't exactly human. So their relationship isn't going to work out that well, with the whole "forbidden to talk to humans" laws and everything.
This book was a nice, refreshing fantasy read. I've read about vampires. Utopia. Dystopia. Ghosts. Demons. Wardens. Angels. Gods.
I am so glad that I get to read about something else for a change. (What exactly is this something else?? Read the book to find out!) It was interesting to learn the mythical history behind Lad and his race. I certainly learned some new things (some of which are actually real, like how many different names their race goes by all over the world). Patrick did a great job of world-building and building up a whole new race that isn't written about often. Props to her for that!
The only thing I wasn't crazy about in this book was the main plot twist. (If you read this book already, you know what I'm talking about.) As soon as Lad explained more about where he was from, I figured it out. At first, I thought I may have just acquired some super plot-predicting abilities overnight, but it turns out that I read a couple of other reviews of this novel and apparently quite a few people saw it coming, too. That's what makes plot twists tricky. You can't have zero clues and just hit people with a huge plot twist. They'll revolt. It's illogical and has no proof to back it up. (This is a very blatant subtweet at We Were Liars.) But you also can't throw in so many glaring clues that readers have absolutely no choice but to completely predict the ending. Where's the fun in that? Clues need to be sprinkles in here and there, subtle little things that aren't easy to pick up on, but once you get to the plot twist instead of going "OH MY GOD THAT MAKES NO SENSE" you go "WHOA THAT'S CRAZY HOW DID I NOT SEE THAT COMING THE HINTS ARE ALL THERE."
It wasn't a bad plot twist. That's not what I'm saying. It was really great. But it would have been epic and fantastic and all of those ending-in-c-amazing-words if the hints had been a little more subtle. It would have definitely blown some people's minds.
All in all, Hidden Deep was a YA fantasy novel like no other. In a world of vampires and demons and witches, a new story with a new mythical background is always welcome. It was a funny, romantic, refreshing read that I'm glad I got to pick up. I'd definitely be interested in reading the rest of this trilogy. Thank you again to author Amy Patrick for sending me a copy!
Rating:
*Disclaimer: Author Amy Patrick sent me a copy of Hidden Deep in exchange for an honest review. Every opinion expressed in this review is entirely my own and neither the publisher nor Amy Patrick received any prior knowledge of my review before its publication date on March 6th, 2015.