Blackmail Boyfriend by Chris Cannon
Expected Publication Date: August 11th 2015 by Entangled Crush
Sometimes, blackmail is the only weapon a girl has… Haley Patterson has had a crush on golden boy Bryce Colton for ages. But when she hears a rumor that he hooked up with her she gives him a choice: be her boyfriend for a month to show other guys that she's dateable—despite her overprotective and very intimidating brothers—or deal with the angry, cage-fighting boyfriend of the girl he actually did hook up with. Bryce didn't know the other Haley even had a boyfriend. He was just trying to get his ex off his back. And now, not only is he being blackmailed, he's being blackmailed by an honor student. His new "girlfriend" has two three-legged dogs, her father mows grass at the country club, and she's…well, difficult. And different. Can something so fake turn into something real?
I was really looking forward too this one, so I was even more disappointed when I didn't enjoy it. My biggest issue was Haley. She was demanding, bratty, and had a one tract mind. She kept claiming her brothers were the reason she didn't have a boyfriend, I honestly think she needs to reevaluate that. Haley isn't someone I would want to be friends with. I would put her in her place. The whole blackmail thing was stupid, the whole situation was the caused by the other Haley's inability to deal with her stupid actions. There were so many things that I disliked with this book, I am surprised that it didn't DNF it.
Rating: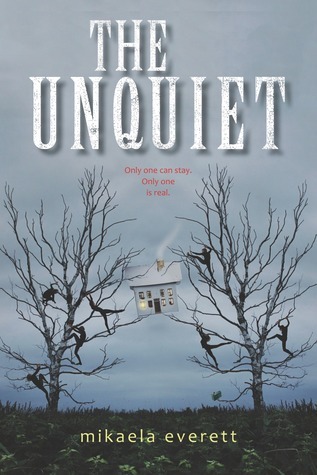 The Unquiet by Mikaela Everett
Expected Publication Date: September 22nd 2015 by Greenwillow Books
For most of her life, Lirael has been training to kill—and replace—a duplicate version of herself on a parallel Earth. She is the perfect sleeper-soldier. But she's beginning to suspect she is not a good person. Fans of eerily futuristic and beautifully crafted stories such as Never Let Me Go,Orphan Black, and Fringe will find themselves haunted by this unsettling debut. The two Earths are identical in almost every way. Two copies of every city, every building, even every person. But the people from the second Earth know something their duplicates do not—two versions of the same thing cannot exist. They—and their whole planet—are slowly disappearing. Lira has been trained mercilessly since childhood to learn everything she can about her duplicate, to be a ruthless sleeper-assassin who kills that other Lirael and steps seamlessly into her life.
The Unquiet had a strong start, and then it fell flat. At 35% and 7 days in I finally decided to DNF it. It was pitched for fans of Orphan black so I actually thought I would love it. I was sure I was. The idea behind The Unquiet was interesting, but very little actually happened that left me wanting to read. I had no connection to any of the characters, and frankly I thought Lirael was immature. No matter how many times she tried to prove she wasn't.
*Sorry, I had to use an Orphan Black GIF*
*I won't be rating this one due to lack of actual information I would need to rate*
Dead Upon a Time by Elizabeth Paulson
Expected Publication Date: August 25th 2015 by Scholastic Press
It's a fairy-tale nightmare . . . One girl is kept in a room where every day the only food she's given is a poisoned apple. Another is kept in a room covered in needles -- and if she pricks her finger, she'll die. Then there are the brother and sister kept in a cell that keeps getting hotter and hotter. . . A sinister kidnapper is on the loose in Kate's world. She's not involved until one day she heads to her grandmother's house in the woods -- and finds her grandmother has also been taken. Already an outcast, Kate can't get any help from the villagers who hate her. Only Jack, another outsider, will listen to what's happened. Then a princess is taken, and suddenly the king is paying attention -- even though the girl's stepmother would rather he didn't. It's up to Kate and Jack to track down the victims before an ever after arrives that's far from happy.
I actually liked Dead Upon a Time more then I thought I would, until I hit 67% and I literally didn't care for what was happening anymore. Obviously this is a book of fairy tale retellings but for almost three quarters of the book they didn't talk about what the summary described. I felt a little mislead. Nothing extraordinarily interesting happened in the first 75% of the book. To be honest I was bored.
Rating:
*1.5 Stars*
Have you read any of these books yet? Have you had the same problem as me or the did you like them? Let me know in the comments!