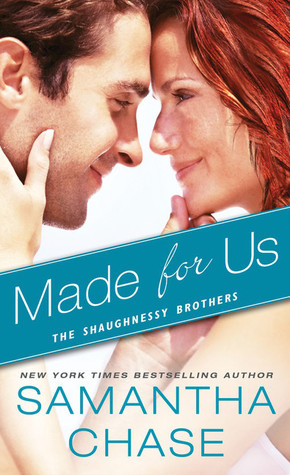 Title: Made For Us (The Shaughnessy Brothers, #1)
Author: Samantha Chase
Publisher: Sourcebooks Casablanca
Rating: 5/5 Stars
Paperback, 384 Pages
Published August 4th 2015
Shelve it on Goodreads!
Summary: The Shaughnessy brothers—Aiden in particular—have spent the years since their mother's untimely death taking care of each other and trying to make their father proud. And Aiden has managed pretty well so far. But his father is starting to worry he's neglected himself. At the age of thirty-four, he is successful and handsome, and he still has no grandchildren!

Aiden's met plenty of attractive women over the years, but who has the time? It isn't until he meets Zoe, a designer on one of his jobs, that he starts realizing he wants something more...
I received a copy of Made For Us from author Samantha Chase (along with some awesome swag and goodies!!) earlier this week - so thank you so much for that, Samantha! When she read my raving review about one of her other books that I picked up at BookCon, Return to You, she was so happy that she even went on to print the review and hang it up in her office. That beyond shocked and flattered me - I had no idea that my raving fangirl review had any real impact on her whatsoever.
Since then, I've been so touched and so excited to get my hands on her next piece of work, so Samantha surprised me by giving me a copy of this book a few days prior to release day! Needless to say, I was ecstatic when it came. I screamed a whole lot and did a whole bunch of happy dancing. :D (And if you want to read my raving review of Return to You, you can do so by clicking here.)
So, onto the book itself. I am having the GIF from my last Samantha Chase review make another appearance, because Made For Us made me feel the exact same way that Return to You did.
So, there are two main characters in this story. One is Zoe, a fiery-haired, quick-tongued interior designer that moves to the North Carolina beachfront after some severe family struggles back in Arizona. The other is Aidan Shaughnessy (A last name I still have trouble spelling), a strong, Type-A, controlling man with the best intentions but the worst methods of executing them. Zoe gets put on the task of working as Aidan's interior designer for a set of model homes that his construction company is working on. He's attractive, and so is she. The problem? Aidan has a tendency to be a controlling jacka** and Zoe has a tendency to tell him that outright. Repeatedly.
Made For Us follows Zoe and Aidan as they both struggle to come to terms not only with their past, but also with each other. Before long, Zoe and Aidan manage to come to civil terms with one another, working and seeming to coexist in peace. Until they realize that they can never just simply be coworkers - that they're destined to be something more, and something amazing. The problem is, Zoe's all on board with it, and so is Aidan - until it becomes time to bring Zoe around to the select group of people he actually cares about. When it all comes down to the wire, will Zoe pass the test?
This is the first book in the Shaughnessy Brothers series, which is a new series by Chase. (And I am
sooo
excited for it!) I have never followed a full series of hers before, so I'm equal parts curious and excited to see how this goes. I definitely hope that Zoe and Aidan will be making some appearances in the next book, because I want to know more about them and what happens after the final pages of Made For Us (which I will talk about momentarily). I hadn't had a chance to read The Montgomery Brothers series all the way through, since I had picked up the fourth book at BookCon and just started right from that point. I'm eager to learn more as more as the books in the series progress, and I hope that all of the Shaughnessy brothers and their significant others have such epic lives and stories and romances as Aidan and Zoe do.
This book left me feeling all sorts of ways - mad, sad, shocked, hurt, appalled, giggly, swoony, and just downright jealous - but in all the right ways. Chase has such a great style of writing that hooked me in from the get go and never let me go - I breezed through this book in only a couple of days because I kept wanting to know what happened next. This is definitely another book where I developed a series case of "One More Chapter" Disease that I can add to my list.
I started off the book very turned off to Aidan. He was rude, controlling, and definitely somebody always used to getting his way. After several interactions with Zoe and reading everything from her perspective, I expected him to be the kind of character I would resent if he ended up getting a happily ever after when he didn't deserve one. As I read on, I realized there had been more to Aidan than what met my eye all along, and he was a character with a past and problems just like everybody else - even if he wasn't the most spectacular individual when it came to expressing those feelings and problems in the right manner. By the end, I was rooting for him.
No, not rooting. Outright cheering and jumping up and down and yelling.
Now I'm going to talk about the end really quickly, and there are some spoilers, so if you haven't read this book yet please skip to the next paragraph! The end of this book actually left me visibly swooning and sighing out loud with happiness and pure fangirl emotion, just like Return to You did. I was smiling and giggling and every ounce of the teenage girl in me (and there's a lot of it since I am a teenage girl) was in full-on Swoon Mode.
If you are or have ever been a teenage girl, you understand how dramatic Swoon Mode can be. I envied Zoe and her ending, and for getting such a perfect guy like Aidan was. When he told her that he should've given her the candlelight, I actually squeaked out loud because it was so darn cute.
EVERYTHING IN THIS BOOK IS SO DARN CUTE.
Well, I wouldn't say everything. This book is filled with not only heart-stopping romance, but drama and worry and intense emotions all around. It's a riveting, captivating read that will hold your attention from the first page to the last.
All in all, I felt that Made For Us by Samantha Chase was another perfectly written book. I enjoyed every single page and all of the emotions that it sparked in me. This isn't just a cheesy adult romance novel - this is a love story with depth, struggle, and discovering new and shocking things at the turn of each page. Made For Us was utterly fantastic and I already have the second book in this series on my TBR, eagerly awaiting its publication next year. If you haven't read any of Samantha Chase's books yet, I strongly encourage you to pick up at least one of them and give them a try - and this book is definitely a good book to start with, so scroll on up to the top of this review and click that link to shelve this book and put it on your Goodreads TBR!
I'd like to thank author Samantha Chase one more time and give her a huge virtual hug not only for sending me this book and the fun stuff, but also for being such a sweet and kind and caring person - especially because she was in no way obligated to send me anything. I'm so glad that my first review of her work was able to brighten up her day and I hope that this review makes her feel the same way. :-) This is definitely a book to add to your TBR, people! I'm a super-picky five-star rater and this book deserves every one of these stars and more! I love love love loved this book. :-)
Rating: