Title:
Walk on Earth a Stranger (The Gold Seer Trilogy, #1)
Author: Rae Carson
Rating: 4/5 Stars
Publication: September 22nd, 2015
Publisher: Greenwillow Books
Hardcover, 432 Pages
Add it on Goodreads!
Summary: Lee Westfall has a secret. She can sense the presence of gold in the world around her. Veins deep beneath the earth, pebbles in the river, nuggets dug up from the forest floor. The buzz of gold means warmth and life and home—until everything is ripped away by a man who wants to control her. Left with nothing, Lee disguises herself as a boy and takes to the trail across the country. Gold was discovered in California, and where else could such a magical girl find herself, find safety?
I received an ARC copy of Walk on Earth a Stranger from the Harper booth at BookCon this past May. At first, I wasn't sure what to expect - I'm not a big fan of anything other than contemporary, so I wasn't sure how I felt. Especially because the book was set in the era of the California Gold Rush. I'd spent way too much time in my AP U.S. History course this past school year and I was in no rush to go delving back into it.
My logic ended up being pretty ridiculous, because I really enjoyed this book. Leah's character is so strong and brave and she is the ultimate heroine - with a freaky ability to be able to sense gold in the Earth - whether it's on the surface or deep threads deep, deep down. So you can imagine how important of an ability that can be for people - especially since this book takes place in the gold rush era.
Which is why Leah and her parents swear to keep her ability a family secret. The only child and therefore having no male successor for her father, Leah isn't the typical colonial-age young girl. She hunts, mucks stalls, and can shoot sharper than any of the men in her town. Like I said, she's brave and the ultimate bada**.
(This is where I take a minute to pause and stare at the beauty that is this cover again because it's seriously so nice:)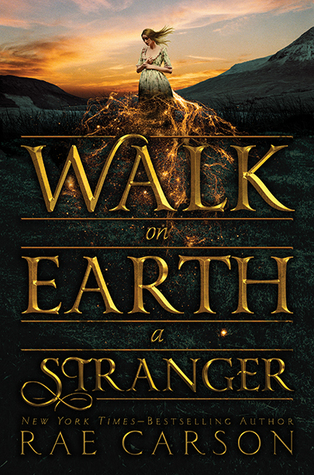 Okay. Now that the cover lust is out of the way...
Anyway, back to Leah and her family secret. After a terrible turn of events, Leah winds up far from the only family she's ever known, outrunning the one man who seems to know her secret - and plans on exploiting her for his own benefits. To escape him, Leah (officially donning her new name of "Lee") pulls a typical Mulan move with the chopping of the hair, binding of the chest, and pretending to be a boy. With her new disguise, she flees her home on horseback and sets out to California, hoping to get there before this terrible man catches her and drags her back.
This book is equal parts runaway story, survival story, and historical fiction. I never thought I would enjoy this book as much as I did, but I really did end up liking it a lot. The turn of events that led Leah to run away absolutely shocked me. The book starts off a little bit slow, but it eventually picks up and makes you want to keep on reading.
As Leah travels West to California, she encounters all different people (good and bad), situations (good and bad), and luck (also good and bad). She eventually ends up joining a wagon train heading West with several families, and a majority of the book takes place in that setting - Leah ("Lee" - because nobody knows about her secret identity, yet) traveling with all of these people across the Western terrain in search for the California gold. The book definitely stays true to the times - Leah's narration is equal parts historically accurate and typical of a teenage girl even today, which I loved. Her journey was long, interesting, and dramatic - she met people from all walks of life, social statuses, Americans, Native Americans, children, adults, bandits, etc.
Minor spoilers in this paragraph - please skip on to the next one if you don't want it ruined for you! The ending of the book was my favorite part - when she's caught and confronted and each of them stand up for her, even saying that she's one of theirs now. It was super touching and brought a little tear to my eye. :')
All in all, Walk on Earth a Stranger is a gripping historical fiction about a girl fighting for her life and her freedom as she flees West for safety and the ability to prosper. I can't wait to get my hands on the second book in this trilogy, and I'm shocked to hear myself say that because I'm never into historical fiction - but this book is definitely different from the rest and I think that everyone should give it a try!
Rating: