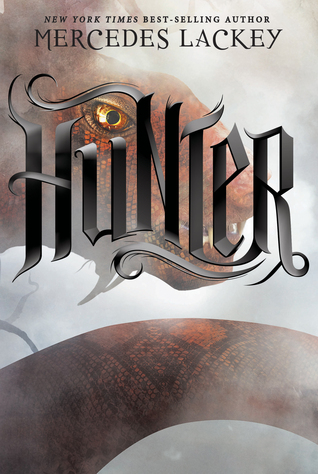 Title: Hunter
Author: Mercedes Lackey
Genre: Fantasy, Dystopia, Paranormal
Source: ARC sent by Publisher
Publisher:
Disney-Hyperion
Publication Date: September 1st 2015
Summary:
Centuries ago, the barriers between our world and the Otherworld were slashed open allowing hideous fantastical monsters to wreak havoc; destroying entire cities in their wake. Now, people must live in enclosed communities, behind walls that keep them safe from the evil creatures constantly trying to break in. Only the corps of teen Hunters with lightning reflexes and magical abilities can protect the populace from the daily attacks. Joyeaux Charmand is a mountain girl from a close knit village who comes to the big city to join the Hunters. Joy thinks she is only there to perform her civic duty and protect the capitol Cits, or civilians, but as cameras follow her every move, she soon learns that the more successful she is in her hunts, the more famous she becomes. With millions of fans watching her on reality TV, Joy begins to realize that Apex is not all it seems. She is forced to question everything she grew up believing about the legendary Hunters and the very world she lives in. Soon she finds that her fame may be part of a deep conspiracy that threatens to upend the protective structure built to keep dark magic out. The monsters are getting in and it is up to Joy to find out why.
About Mercedes:
Mercedes Lackey is the acclaimed author of over fifty novels and many works of short fiction. In her "spare" time she is also a professional lyricist and a licensed wild bird rehabilitator. Mercedes lives in Oklahoma with her husband and frequent collaborator, artist Larry Dixon, and their flock of parrots.
Giveaway:
Winners will receive a finished copy of HUNTER. US Only.
Tour Schedule:
Week One:
Week Two: