Welcome back to the third week of the March edition of
The New Authors on the Block
! Today it is time for a
Q&A
!
Q

&

A

:
Where did your inspiration for Stone Field start?
It started when different elements came together in my mind and ignited, kind of like a match, a rag, and a can of gasoline. One element was an interest in my Civil War ancestor from Missouri, Bushwhacker Bill Wilson, who was lauded as a hero, but did some pretty horrible things. I wondered what it must have been like living in his tumultuous time and place. Another element was my fascination with Emily Bronte's fierce characters in
Wuthering Heights
. Cathy and Heathcliff's relationship perplexed and intrigued me. Then Cat's voice came to me, and that was the spark thrown on both of those interests.
Which character can you relate to the most?
It's pretty easy for me to relate to Cat because her particular strengths and weaknesses resonate with me, especially the way in which they're connected. For instance, Cat is fiercely determined to remain true to herself and pursue her desires (strengths!), which can sometimes lead to a sort of tunnel vision and self-absorbed intensity (weaknesses!) I also relate to her impulsive nature—living life in the moment. That can be a wonderful thing, but Cat rarely considers the future ramifications of her actions. I love Cat. And I also want to shake her hard. Sometimes I wonder if people feel that way about me.
How does it feel to be a debut author?
Vulnerable. Exciting. Slow. Fast. Up. Down. Nauseating. Scary. Exhilarating. Like an amazing rollercoaster that I couldn't ride until I'd spent ages inching forward in a long, long, line. But totally worth it!
Name 3 songs that help get you in the writing mood:
When I was working on STONE FIELD, I was listening to Agnes Obel's album Aventine and was struck by how the haunting atmosphere and themes seemed to go so perfectly with the story, especially "Dorian," and "The Curse." Another song I listened to at the time that seemed apropos was "Friend of Mine" by Edie Brickell & Steve Martin. Not only did Martin's banjo make it sound like a song Cat might have heard back then, it's a perfect ode to Effie's friendship.
What is your favorite element of the story? Why?
Cat's wild work is one of my favorite aspects. My ideas for her creations were inspired by the ephemeral nature art of the environmental artist Andy Goldsworthy. I enjoy seeing Cat express her feelings and thoughts through her art because I think creating art is important and good for the soul. As the author Kurt Vonnegut wrote, "Practice any art, music, singing, dancing, acting, drawing, painting, sculpting, poetry, fiction, essays, reportage, no matter how well or badly, not to get money and fame, but to experience becoming, to find out what's inside you, to make your soul grow."
About Christy:
Christy Lenzi first stuffed a note into an aspirin bottle and threw it in the creek when she was eleven, hoping her words would reach someone out in the big world. Eventually her notes got longer and turned into books. One of her favorite things to do is to ride her motor scooter, Roxanne, down a winding road at sunset. Christy lives in California's Central Valley with her family.
About Stone Field: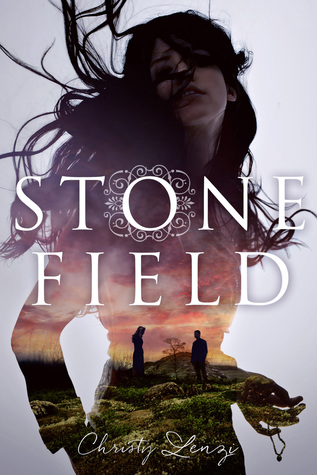 Title: Stone Field
Author: Christy Lenzi
Genre: Historical Fiction, Retelling, Romance
Publisher: Roaring Brook Press
Publication Date: March 29th 2016
Summary:
In a small town on the brink of the Civil War, Catrina finds a man making strange patterns in her family's sorghum crop. He's mad with fever, naked, and strikingly beautiful. He has no memory of who he is or what he's done before Catrina found him in Stone Field. But that doesn't bother Catrina because she doesn't like thinking about the things she's done before either. Catrina and Stonefield fall passionately, dangerously, in love. All they want is to live with each other, in harmony with the land and away from Cat's protective brother, the new fanatical preacher, and the neighbors who are scandalized by their relationship. But Stonefield can't escape the truth about who he is, and the conflict tearing apart the country demands that everyone take a side before the bloodbath reaches their doorstep. Inspired by Emily Bronte's Wuthering Heights, Stone Field is a passionate and atmospheric story of how violence and vengeance pervert the human spirit, and how hatred can be transcended by love.




What to expect this month:
Giveaway:
Please be 13 years or older or have a parents permission to enter

This giveaway is open to US residents or those with US mailing addresses
The Book Bratz and Chisty are not responsible for any lost or damaged packages.