"Waiting On Wednesday" is a weekly meme hosted by

Breaking The Spine

where we highlight some of the upcoming books we can't wait to read!
Amber's Waiting on:
Title:
Unplugged (The Wired #1)
Author: Donna Freitas
Genre: Science Fiction
Publisher:
HarperTeen
Publication Date:
June 21st 2016
Summary:
Humanity is split into the App World and the Real World—an extravagant virtual world for the wealthy and a dying physical world for the poor. Years ago, Skylar Cruz's family sent her to the App World for a chance at a better life. Now Skye is a nobody, a virtual sixteen-year-old girl without any glamorous effects or expensive downloads to make her stand out in the App World. Yet none of that matters to Skye. All she wants is a chance to unplug and see her mother and sister again. But when the borders between worlds suddenly close, Skye loses that chance. Desperate to reach her family, Skye risks everything to get back to the physical world. Once she arrives, however, she discovers a much larger, darker reality than the one she remembers. In the tradition of M. T. Anderson's Feed and Scott Westerfeld's Uglies, Unplugged kicks off a thrilling and timely sci-fi series for teens from an award-winning writer.
This book is just going to feed my inner sci-fi nerd! Plus, that cover is stunning!
Jessica's Waiting on: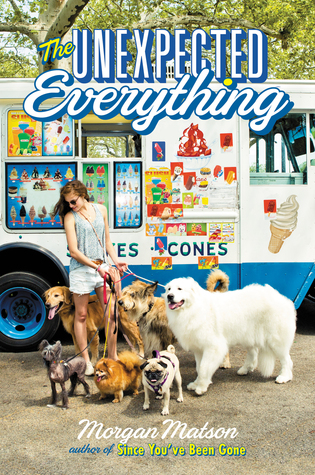 Title: The Unexpected Everything
Author: Morgan Matson
Genre: YA Contemporary
Publisher:
Simon & Schuster
Publication Date: May 3rd 2016
Summary:

Andie had it all planned out.

When you are a politician's daughter who's pretty much raised yourself, you learn everything can be planned or spun, or both. Especially your future.

Important internship? Check.

Amazing friends? Check.

Guys? Check (as long as we're talking no more than three weeks).

But that was before the scandal. Before having to be in the same house with her dad. Before walking an insane number of dogs. That was before Clark and those few months that might change her whole life.

Because here's the thing - if everything's planned out, you can never find the unexpected.

And where's the fun in that?
I really enjoyed Since You've Been Gone by Morgan Matson so I'm hoping that I'll enjoy The Unexpected Everything just as much!
What are you waiting on this week? Leave your links so we can stop back!