"Waiting On Wednesday" is a weekly meme hosted by

Breaking The Spine

where we highlight some of the upcoming books we can't wait to read!
Amber's Waiting on: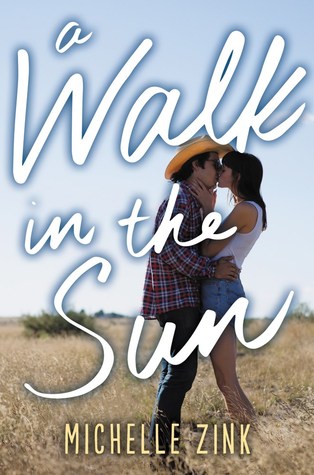 Title:
A Walk in the Sun
Author:
Michelle Zink
Genre: Contemporary, Romance
Publisher:
HarperTeen
Publication Date:
May 3rd 2016
Summary:
Rose Darrow never wanted to spend her life working on her family's farm. But when her family is rocked by an unexpected tragedy she has no choice but to put her plans for the future—and dreams of escaping her small town—on hold. Bodhi Lowell left home as a kid and hasn't looked back. Years of working farm jobs has given him the one thing he wants most: freedom to travel without answering to anyone. He's already looking past his job at Darrow Farm and plans on leaving in September—until he meets Rose. Neither Rose nor Bodhi can deny the sparks flying between them, but with the end of summer looming, they must decide if it is better to have loved and lost than never to have loved at all....
Ahh! This book sounds so cute, and I love books with couples on the covers. I really can't wait to read this one. It looks like a cutesie romance!
Jessica's Waiting on:
Title: P.S. I Like You
Author: Katie West
Genre: YA Contemporary, Romance
Publisher: Point
Publication Date: July 26th 2016
Summary:

While Lily is spacing out in Chemistry one day, she picks up her pencil and scribbles a line from one of her favorite songs on the desk. The next day, someone else has written back to her on the desk! Soon enough Lily and the mystery student are exchanging notes, and lyrics, and even sharing secrets. When Lily finds out that her anonymous pen pal is a guy, she's flustered -- and kind of feels like she's falling for him. She and her best friend set out to unravel the identity of the letter writer -- but when the truth is revealed, the guy is the LAST person Lily could have ever imagined it to be. Now that Lily knows the truth, can she untangle her feelings and gather the courage to listen to her heart?
I really enjoyed The Fill-In Boyfriend by Kasie West, so I'm really looking forward to reading something else by her! This book seems super cute and also kind of mysterious - the perfect kind of contemporary novel for me. Definitely looking forward to getting my hands on this one!
What are you waiting on this week? Leave your links so we can stop back!