"Waiting On Wednesday" is a weekly meme hosted by

Breaking The Spine

where we highlight some of the upcoming books we can't wait to read!
Amber's Waiting on: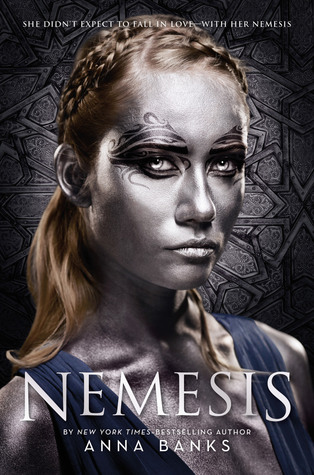 Title:
Nemesis
Author: Anna Banks
Genre: Fantasy
Publisher:
Feiwel & Friends
Publication Date:
October 4th 2016
Summary:
The princess didn't expect to fall in love--with her nemesis. Princess Sepora of Serubel is the last Forger in all the five kingdoms. The spectorium she creates provides energy for all, but now her father has found a way to weaponize it, and his intentions to incite war force her to flee from his grasp. She escapes across enemy lines into the kingdom of Theoria, but her plans to hide are thwarted when she is captured and placed in the young king's servitude. Tarik has just taken over rulership of Theoria, and must now face a new plague sweeping through his kingdom and killing his citizens. The last thing he needs is a troublesome servant vying for his attention. But mistress Sepora will not be ignored. When the two finally meet face-to-face, they form an unlikely bond that complicates life in ways neither of them could have imagined. Sepora's gift could save Tarik's kingdom from the Quiet Plague. But should she trust her growing feelings for her nemesis, or should she hide her gifts at all costs?
Jessica's Waiting on:
Title:
Gemini
Author: Sonya Mukherjee
Genre: Contemporary
Publisher: Simon & Schuster
Publication Date: July 26th 2016
Summary:

Seventeen-year-old conjoined twins, Clara and Hailey, have lived in the same small town their entire lives—no one stares at them anymore. But there are cracks in their quiet existence and they're slowing becoming more apparent. Clara and Hailey are at a crossroads. Clara wants to stay close to home, avoid all attention, and study the night sky. Hailey wants to travel the world, learn from great artists, and dance with mysterious boys. As high school graduation approaches, each twin must untangle her dreams from her sister's, and figure out what it means to be her own person.
The entire concept of this book intrigues me - I don't know how I would feel if I was a conjoined twin that wanted to go out and have my own life experiences while my sister wanted to have experiences that were the exact opposite. I definitely want to read this book and see what it's like for the sisters and how they make things work. I'm excited to get my hands on this one!
What are you waiting on this week? Leave your links so we can stop back!