Hey guys! It seems that you all seem to be enjoying my "Five Things" posts lately, so I decided to bring you yet another one: five things you do when balancing blogging with your daily life! So without further ado, here are the five things I've definitely learned over the years:
1. Every waking moment of free time you have is spent hurriedly reading so you have material to review.
And I mean you bring ARCs everywhere. To the salon, to work, to school...anywhere that you can get even thirty seconds of reading accomplished.
2. The only time you have to work on blog stuff is after an long, exhausting day of work or school.
And you therefore find yourself up until 3:00am writing reviews that probably aren't even coherent anymore.
3. You check your email when you're out and about and say you'll answer them later, but later never comes.
And then you have 3,500 emails in your inbox that probably should've been answered sometime in the past month or so.
4. You're constantly Tweeting from the wrong Twitter account.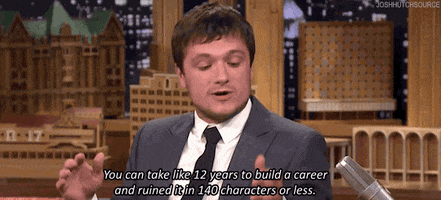 I have both my personal and blog Twitters hooked up to my phone, and I tend to Tweet the blog's post of the day while I'm out and about...and then I forget to switch back to my personal account afterwords, so if I Tweet later in the day in a rush, sometimes my blog followers get to see some of the dumb stuff that's normally just reserved for my private account.
5. You have dozens of review notes saved on your phone and various other places.
Kind of piggybacking off of #1 here - when you finish a book while you're out and about and you don't have time to go sit down and review it, you hurriedly jot down notes about the book anywhere that they'll fit before you forget. This results in review notes being found in your phone, your planner, on your hand, etc.
I hope you guys enjoyed this post! These are definitely blogging things that I've experienced while trying to juggle school and a social life while also being a YA book blogger. Do you relate to any of these things? If so, comment down below and let me know - and add your own to the list if you can think of any!