Hey guys. For the past few weeks, there have been random spurts of blogging drama popping up, which tends to happen every now and then. We're a big community with tons of different opinions. It's normal (and, as a matter of fact, encouraged) to disagree from time to time. Without diversity, we don't have much else. But what isn't okay is the hate and drama that tends to circulate afterwards. (You may know what drama I'm talking about, or you may not. It doesn't matter. It's all the same. Related to ARCs, other bloggers, and all of that stuff.)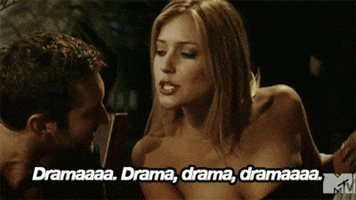 So, as a quick little reminder, I decided to bring back my post from last year, about blogger/author love. (Click the highlighted part to view the whole post.) Here's what several authors had to say about bloggers and their efforts in the literary community:
"I'm lucky enough to have the backing of a large publisher, but my book would be nowhere without bloggers to spread the word. I can't thank you all enough for reading and reviewing (good or bad). You bring so much light and heart to our industry, doing everything you can, usually for nothing, and always with the best intentions."
-Victoria Aveyard, author of Red Queen
"I'm so thankful for bloggers. Whether they give positive feedback or not, it gives my book exposure and helps me grow as a writer. The mutual benefits for bloggers and writers when working together are wonderful, and you gain new friends and supporters."
-Juliana Mae, author of The Way He Looks at Me
"Bloggers are literary fairy godmothers. They can send a deserving debut author to the ball where every eligible reader is searching for a princely tale. Way better than glass slippers and everyone gets a happily ever after. Without bloggers, authors would be stuck at home with the mice."
-Sarah Negovetich, author of Rite of Rejection
"As a debut author, I'm still acclimating to reviews. While the positive ones fill me with a little extra glow, I'm grateful to all bloggers and reviewers. Anyone who's invested energy in my book - and then given their time to discuss it - has broadened the conversation. The more perspective and insight, the better off we all are."
-Moriah McStay, author of Everything That Makes You

"If there is one piece of advice I could give every published author in the world it would be this: engage genuinely with bloggers, because they will be your biggest and brightest champions. Through my publishing journey, some of the nicest, smartest, and most creative people I have met were book bloggers. They're amazingly impassioned readers and so astonishingly supportive. If you make friends with the bloggers talking about and sharing your book, there's nothing you can't do. Facing the blank page is a lot less scary when you know you have such a caring community cheering you on."
-Erica Crouch, author of the Ignite Series

"Before Zodiac, I'd been trying to get published for ten years. Then in March of 2014, I received Z's first printed galley, and I honestly can't remember what that moment felt like. What I do remember is the blogger who messaged me after reading the galley, gushing about how much she loved Z. She was the first reader to reach out to me, and though she doesn't know it, she will forever be the first person to have made me feel like an Author. I also remember the pair of co-bloggers who warmly welcomed me into the world of Twitter book chats by allowing me to be part of their reading experience. Listening to their honest feedback was one of the coolest things I've ever done. Most of all, I remember the bloggers who included Z among their lists of favorite reads for 2014—I was going through the hardest moment in my life at the end of last year, and though they didn't know it, for awhile their love and support was the only light in my world. I don't know what it would be like to be an author without blogger friends, and I don't want to—thank you for reading my stories, for supporting me, and for reminding me I'm not alone."
-Romina Russell, author of Zodiac
My point is, no matter how much drama may be circulating around in the blogging world, I feel that it's important not to engage in it. We're all professionals here, and we're all coming together to bond over one key factor: books. So even if someone does something that may piss you off a little bit, or if there's an argument going on, we really should just sit back, unplug from social media, and focus on what we're really here for. I'm not preaching from a high horse here, because I've been guilty of it, too. It's easy to get involved in arguments when you're upset over something. It's easy to send a Tweet or spark up some animosity. But we need to focus on what's important and what we're really here for.
I mean, look at all of the amazing things that these authors had to say about us - about our incredible kindness and passion for what we love. We should be focusing on that and not on drama and hatred, right?
I think it's time that we all sit back and give our actions a second look, and realize that we're all shooting for one common goal here. Working together is so much easier and more beneficial than engaging in petty drama. I love this community with all of my heart, and I want nothing but the best for us, and maybe that's why it's time to talk about this stuff so we can put it behind us and all move forward as the tight-knit community we're known to be.