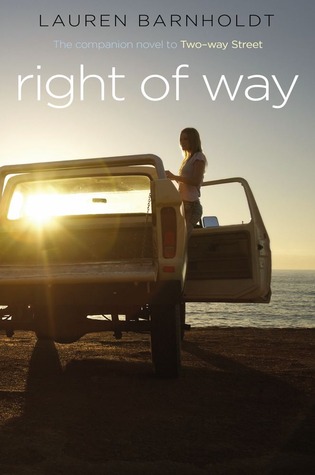 Title:
Right of Way
Author: Lauren Barnholdt
Publisher: Simon Pulse
Rating:
Paperback, 320 Pages
Published July 2013
Summary: Here are Peyton and Jace, meeting on vacation. Click! It's awesome, it's easy, it's romantic. This is the real deal.

Unless it isn't. Because when you're in love, you don't just stop calling one day. And you don't keep secrets. Or lie. And when your life starts falling apart, you're supposed to have the other person to lean on.

Here are Peyton and Jace again, broken up but thrown together on a road trip. One of them is lying about the destination. One of them is pretending not to be leaving something behind. And neither of them is prepared for what's coming on the road ahead…
Right of Way by Lauren Barnholdt is the second book included in the Road Trip Summer bindup.
Right of Way is the story of Peyton and Jace on their own road trip. After Jace abruptly stop talking to Peyton, she doesn't understand why. Now, they're thrown back together when they're at Peyton's uncles wedding. Peyton is ready to start her summer with her best friend, Brooklyn, in North Carolina, but when Brooklyn gets caught and can't go, Peyton has no way to get home, or in her case, North Carolina. When Jace offers to bring her home to Connecticut, she never thought she'd fall for Jace all over again, all while trying to get him to take her to North Carolina.
Peyton is trying to get away for the summer after finding out her spend crazy mother has opened multiple credit cards in her name, all of them overdue.
After multiple fights and Jace leaving Peyton at a hotel in Georgia, everything comes out. Jace confesses that he stopped talking to Peyton because she didn't tell him her parents were getting a divorce.
Honestly, that was stupid on Jace's part. Like really? You break up with a girl because she didn't tell you her parents were getting a divorce? And sure, Peyton was avoiding the divorce but she was also hoping it wasn't true. She didn't want it to be because it's her parents.
Like Two Way Street, I only gave this 4 stars. The communication between the two was minimal and just some of the small things, like why Jace stopped talking to Peyton, just didn't catch my attention. But again I did enjoy the book.
Our best friend Emily is currently on board to become the third (and newest!) Book Brat, so instead of throwing her into everything full-force, she'll be starting by posting some guest reviews here and there of some books she's read. So throughout the next few months, expect to see more frequent posts coming from her! :-)