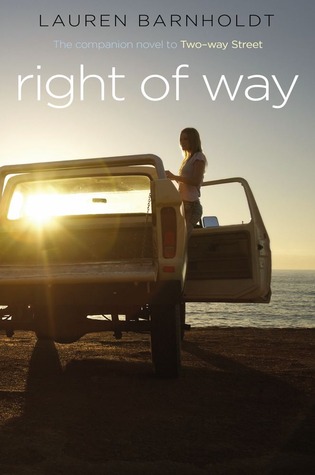 Title:
Right of Way
Author: Lauren Barnholdt
Publisher: Simon Pulse
Rating:
Paperback, 320 Pages
Published July 2013
Summary: Here are Peyton and Jace, meeting on vacation. Click! It's awesome, it's easy, it's romantic. This is the real deal.

Unless it isn't. Because when you're in love, you don't just stop calling one day. And you don't keep secrets. Or lie. And when your life starts falling apart, you're supposed to have the other person to lean on.

Here are Peyton and Jace again, broken up but thrown together on a road trip. One of them is lying about the destination. One of them is pretending not to be leaving something behind. And neither of them is prepared for what's coming on the road ahead…
Road Tip rip Summer by Lauren Barnholdt consisted of two books, Two-Way Street and Right of Way.
Two-Way Street, starts with Courtney and her ex, Jordan, starting their road trip to Boston University. The book jumps back and forth between the tirp and the before leading up to the trip and is also in dual POV. Jordan and Courtney embark on a three day trip to Boston, recently broken up, there a lot of fighting and secrets being kept. Jordan has made up a fake Facebook girlfriend to cover the real reason they broke up, and the night before the trip Courtney hooks up with her friend, Lloyd, to find out he now thinks they're dating.
Before the trip,Jordan meets Courtney at a party, only to go home that night to find his mom cheating on his dad. Courtney never thought she'd fall for Jordan. After dating Courtney for two months, Jordan breaks up with her after finding out a secret about her dad. Jordan doesn't want to be the one to tell her so he creates the fake Facebook girlfriend and tells her he met someone else.
Now, on the trip after a bad night in North Carolina, the secrets come out. Courtney is even more heartbroken now that she found out Jordan knew the whole time and didn't tell her.
Truthfully, I feel bad for Jordan in this situation because it's something that affects both him and Courtney. It was a situation he wasn't comfortable sharing with Courtney because of the way she'd react. But also, if I were Courtney, I don't feel I would be as angry (don't get me wrong, I'd still be fuming that he kept it that long from me) because he wanted her father to be able to explain ( warning spoilers) that he was cheating on Courtney's mother with Jordan's mother.
Though I really enjoyed this book, I did only give it 4 stars because it didn't capture me like I wanted it to. I wanted there to be more heartfelt conversations and listening to each other. It really bugged me that Courtney wouldn't let Jordan explain why he didn't want to tell het what happened. But overall, I would definitely recommend this to anyone.
Our best friend Emily is currently on board to become the third (and newest!) Book Brat, so instead of throwing her into everything full-force, she'll be starting by posting some guest reviews here and there of some books she's read. So throughout the next few months, expect to see more frequent posts coming from her! :-)