In 2019 our goal is to work with as many debut authors as possible and spread the word about their debut novels. Follow us this year as we pick the mind of the 2019 debuts and chat with them. Also stay tuned for news of giveaways, Twitter chats and more!
Last year, we Tweeted about wanting to discover more debut authors and their books. We ended up finding James Brandon and his novel ZIGGY, STARDUST AND ME, and we have been interested in it ever since. We are so excited to have James on the blog today to answer some of our questions!
About James Brandon!
James Brandon is an actor, producer, LGBTQ2+ community activist, and now, YA Author.
For ten years he played the title role in Terrence McNally's Gay Passion Play, CORPUS CHRISTI, traveling the world to international acclaim. He subsequently produced and co-directed the documentary film based on his journey, and created the I AM Love Campaign. Currently, he serves on the Powwow Steering Committee for Bay Area American Indian Two-Sprits (BAAITS) in San Francisco. He's
also a certified Kundalini Yoga teacher, spent a summer at Deer Park Monastery studying Zen Buddhism, and deepened his yoga practice in Rishikesh, India.
Interview!
The Book Bratz:
First of all, congratulations! How does it feel to be a debut author?
James Brandon:

Surreal, strange and euphoric. Like, I'm thinking this is what it feels like when you first walk into the Chocolate Factory.
The Book Bratz:
In your opinion, what is the hardest part of the writing process? What's the easiest?
James Brandon:

Trick question, yes? I'm not sure there's any part of this process that wasn't hard for me. I suppose if I had to choose it would definitely be the editing journey with my brilliant editor, Stacey Barney. I told her in our first phone call to completely eviscerate the manuscript. She did. More than once. And although her tough-love was hard to take at times, it definitely made me dive deeper within myself to find the answers to the questions she was asking of me...

The easiest? Definitely the beginning stages--when I'm planting the seeds to the story--and I'm constantly creating/believing/dreaming/questioning/and a-ha'ing every second of the day. I find that part of the process to be so inspiring and so much fun.
The Book Bratz:
Where did you get the idea for ZIGGY, STARDUST AND ME?
James Brandon:

Several seeds were planted for this story. Mainly, my friend turned me onto an episode of This American Life entitled "81 Words." In it, the narrator tells the story of her grandfather who was one of many psychiatrists involved with de-classifying homosexuality as a mental illness from the DSM in 1973. He talks about meeting one boy who changed his mind on the vote, and I started thinking about who this boy might be. Also, being gay myself, I was embarrassed to admit I knew little of this time, a time that literally changed millions of peoples lives in the LGBTQ+ community. And it hit me how little our history is known and celebrated. This is my overall intention in writing: to document our history that may be lost or forgotten in today's chaos.






The Book Bratz:
Who was your favorite character to write? Who was the hardest?
James Brandon:

Hmmm. Another trick question? I'm not sure I could pinpoint a favorite. Perhaps, strangely, some of my favorite characters were the various "bullies" Jonathan runs into along his journey. I enjoyed breathing life into people who, when I was growing up, I only remember as one-dimensional monsters on the bus or in the halls. I liked figuring out various reasons they are who they are and putting that on the page. We all come from somewhere; we become something because of learned behaviors. And that's what I wanted to explore through those characters. Also, there's this girl Jonathan meets towards the end of the novel who for some reason I really loved writing. She only has one scene, but honestly, even through all the many drafts, not much has changed with her.

Jonathan, my protagonist, is someone I probably most connected with simply because I spend every moment in the novel looking through his eyes. And Web, similarly, is another boy I loved diving into and getting to know. But capturing their journey and love was also one of the hardest aspects for me. Something I learned in this process is that I thought being an openly gay man for the past twenty years somehow made me an expert on the whole "coming out/self-acceptance" process, when in fact I realized I still have much work to do on my own inner journey. "Coming out" is a never-ending life quest, which is why I think "coming out" books are still so vitally important to keep current on the shelves.
The Book Bratz:
Were there any scenes or aspects of the story that got changed or cut out of earlier drafts?
James Brandon:

Yeah. A lot.

Wanted to leave it at that, but maybe best to expound some, lol. Seriously the book, in its first revision, feels like a total re-write (scenes cut, scenes added, re-structuring, etc) from when Stacey first bought it. The second revision was another re-write (structure mostly stayed intact with this one, but I dove much deeper into character). And I know another rewrite is on its way to me. So, from the original story to what it ended up being is quite a dramatic shift. The characters and world remained, the plot mostly remained, just the journey in-between, capturing those subtle moments—without overwriting—to create a powerful punch, was my biggest challenge. (I hope I did it.)

Also, two interesting tidbits (that are probably only of interest to me, but nevertheless): Jonathan's therapist had a much bigger storyline in the original draft I sent my agent (before it went out on submission). Basically it was her story in the beginning, and you'll just have to read it to figure out why...And I rewrote the ending a total of ten times before my agent settled on it for submission. (She was right. It's basically remained intact ever since.) Oh, and let's just say that original draft clocked in at 120k words. Needless to say, I overwrite.
The Book Bratz:
What do you hope readers will get out of reading ZIGGY, STARDUST AND ME?
James Brandon:

So many things of course, all of which I feel are up to the reader to discover on their own. Mainly though, I hope readers gain a deeper sense of this moment in LGBTQ+ history that for some sparked the modern-day movement; with one vote, all those that identified as queer were suddenly "cured" of their diagnosed mental illness. This was only 46 years ago. And I hope, through that lens, we can not only grow a deeper sense of honor of where we've come from, but a deeper sense of appreciation of where we are now.

And beyond that, something I firmly believe: the only true superpower worth fighting for is love...
The Book Bratz:
Do you plan on returning to the world of ZIGGY, STARDUST AND ME in the future, or do you have other story ideas in mind? Can you tell us anything about them?
James Brandon:

The world of ZIGGY may or may not be returned to one day...??? I suppose it all depends on how well this one does...(hint hint).

What I can say is that, yes, I do indeed have another book following this one, continuing my vision of focusing on a lost moment in LGBTQ+ history. And it might involve Doctor Who, the Matrix, grief and loss, acceptance and pain, and a quest through time centered around the first revolutionary moment in LGBTQ+ history that pioneered our community as we know it today. Whew.
About ZIGGY, STARDUST AND ME!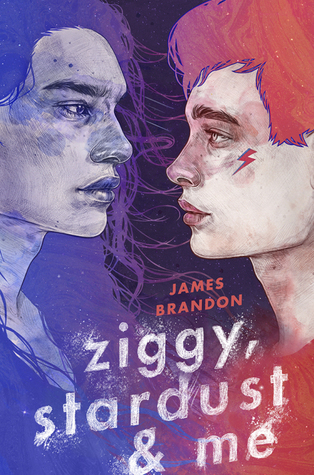 Title:
Ziggy, Stardust and Me
Author: James Brandon
Publisher: Putnam
Publication Date: August 6th, 2019
Summary:

The year is 1973. The Watergate hearings are in full swing. The Vietnam War is still raging. And homosexuality is still officially considered a mental illness. In the midst of these trying times is sixteen-year-old Jonathan Collins, a bullied, anxious, asthmatic kid, who aside from an alcoholic father and his sympathetic neighbor and friend Starla, is completely alone. To cope, Jonathan escapes to the safe haven of his imagination, where his hero David Bowie's Ziggy Stardust and dead relatives, including his mother, guide him through the rough terrain of his life. In his alternate reality, Jonathan can be anything: a superhero, an astronaut, Ziggy Stardust, himself, or completely "normal" and not a boy who likes other boys. When he completes his treatments, he will be normal—at least he hopes. But before that can happen, Web stumbles into his life. Web is everything Jonathan wishes he could be: fearless, fearsome and, most importantly, not ashamed of being gay.

Jonathan doesn't want to like brooding Web, who has secrets all his own. Jonathan wants nothing more than to be "fixed" once and for all. But he's drawn to Web anyway. Web is the first person in the real world to see Jonathan completely and think he's perfect. Web is a kind of escape Jonathan has never known. For the first time in his life, he may finally feel free enough to love and accept himself as he is.
Thank you so much to James Brandon for stopping by and answering our questions! We are super excited about ZIGGY, STARDUST AND ME and can't wait for it to be out in the world on August 6th!