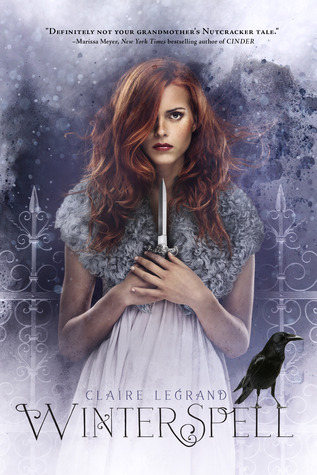 Title: Winterspell
Author: Claire Legrand
Genre: Historical Fiction, Retelling
Source:
Edelweiss
Format: eARC
Publisher:
Simon & Schuster Books for Young Readers
Publication Date: September 30, 2014
Add it to Goodreads
Summary:
The clock chimes midnight, a curse breaks, and a girl meets a prince . . . but what follows is not all sweetness and sugarplums.
New York City, 1899. Clara Stole, the mayor's ever-proper daughter, leads a double life. Since her mother's murder, she has secretly trained in self-defense with the mysterious Drosselmeyer.




Then, on Christmas Eve, disaster strikes.
Her home is destroyed, her father abducted--by beings distinctly

not

human. To find him, Clara journeys to the war-ravaged land of Cane. Her only companion is the dethroned prince Nicholas, bound by a wicked curse. If they're to survive, Clara has no choice but to trust him, but his haunted eyes burn with secrets--and a

need

she can't define. With the dangerous, seductive faery queen Anise hunting them, Clara soon realizes she won't leave Cane unscathed--if she leaves at all.
Inspired by

The Nutcracker

,

Winterspell

is a dark, timeless fai

ry tale about love and war, longing and loneliness, and a girl who must learn to live without fear
~~~
I had high hopes for Winterspell and they just weren't met. To begin with I am not a fan of historical fiction, but reading the summary of Winterspell I figured I would try it. I really tried to get into this book, and I did at one point. The beginning was interesting but as it went the more and more I was getting confused.
Clara was extremely hard to relate with. She lacked so many characteristics, determination was a big one. Also, she was weak in a sense. Her Godfather trained her with weapons to protect herself, and in all honesty she did an okay job with protecting herself, but when it came to her father being abducted she just watched them take him! She wasn't a very good protagonist. Then she has this attraction to a statue. A sexual attraction that is...
The stole a lingering glance at the statue's arm, muscled and savage, covered with spikes and foreign etchings. Her heart beat practically off its hinges. She had touched the statue many times, but never had there been such...heat to it.
Then she compares the statue to Dr Victor is who just gross and makes his lustful desires for Clara clear to the girl....
The truly great thing was that no matter how shocking her fancies grew, the statue never did a thing. He stood there, unmoving, and he did not lick his lips or pin her with hot, uneasy stares.
I am not one to get uncomfortable easily with books. This though, I took me five days to read up to 25%. Mainly because this damn statue. But then the statue comes to life, and Clara stares at him in his full naked glory! Yup, stare at the naked man/statue while your Godfather stands there. Good idea Clara...
She could not stop herself from looking lower than that, eyes sliding down the man's lean white belly—too hungry, too sharp—and down, a bit more...

Her eyes flew shut, her cheeks flaming.
Alright I am done with that statue thing now. Oh, his name is Nicholas by the way!
The plot confused me. The prologue
made me think that the story was going to be set in Cane. Not, New York City in 1898. At first it made sense, then you involve Godfather, the statue, Dr. Victor, and Plum and you get one big mess that you can't decipher
. I ended up putting the book down at 32% into it. I knew I wasn't going to like it and my review wasn't going to be a positive one. Which sucks because I wanted to like this one a lot. I wish I did. I really do. Plus it is a stand alone so I'm not going to be curious about how the second book would be and ect.
(I am actually giving it 1.5 stars. Considering that I did like it in the beginning.)
***
All quotes were taken from an uncorrected proof and may change***