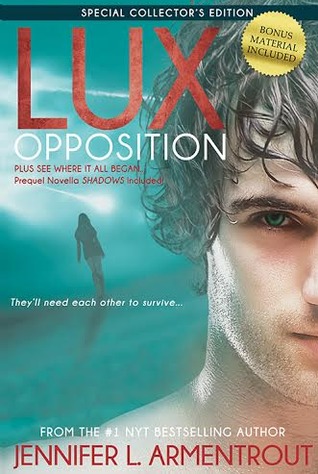 Title: Opposition (Lux #5)
Author: Jennifer L. Armentrout
Genre: Supernatural
Format: Paperback
Publisher: Entangled Teen
Published: August 5, 2014
Summary:
Katy knows the world changed the night the Luxen came.
She can't believe Daemon welcomed his race or stood by as his kind threatened to obliterate every last human and hybrid on Earth. But the lines between good and bad have blurred, and love has become an emotion that could destroy her—could destroy them all.
Daemon will do anything to save those he loves, even if it means betrayal.
They must team with an unlikely enemy if there is any chance of surviving the invasion. But when it quickly becomes impossible to tell friend from foe, and the world is crumbling around them, they may lose everything— even what they cherish most—to ensure the survival of their friends…and mankind.




War has come to Earth. And no matter the outcome, the future will never be the same for those left standing
~~~
Well, this is it. Katy and Daemon's story has come to and end.
I am not sure how I feel about that though. I just stared at my book for a few minutes with my "What do I do with my life now?" look.
This review is hard to write because I don't want to spoil anything (I seem to have a habit of that though) So I am going to make a few comments and end it.
I am not sure what I expect of

Opposition

. But I am more then happy with everything that happened and how it turned out

.

I love the duo point of view, maybe just because I like Daemon's wise ass comments, but I like it.

Opposition

was an emotional roller coaster, my feels haven't been hit that hard in a while.

Katy and Daemon scenes .... Whoa. Daemon's mind it just .... I think we all know what I am talking about.

Tons of action, it kept me on the edge of my seat and wanting so much more....

So much betrayal. So many unlikely allies.

The epilogue was perfect, I was laughing and crying at the same time.

A very awesome conclusion for a very awesome book series!
I also want to bring up the cover for a minute, I saw that a lot of people dislike this cover. I agree and disagree this cover goes with Beginnings (Books 1 and 2) and Consequences (Books 3 & 4) so I like how they match. But I see the point, on how the cover doesn't match the rest of the individual books. But either way as long as Pepe Thoth is on the cover I am going to be very happy.
RATING: ★★★★★
HERE ARE SOME QUOTES:
"We were supposed to have tonight and tomorrow, and many weeks and months, but we didn't have even another minute." -Katy
"Then it was a rumble, causing the house to groan and small clouds of dust to drop from the ceiling. The table scuttled over the floor. A chair toppled over and then another. Somewhere in the living room, a window shattered. Kat was going to bring the house down." -Daemon
"Her gaze floated off again, and as she dropped the edge of the blanket, she reached down, put her hand over her blanket-covered belly, and said, "We'll be okay once Dawson comes back."
"We'll be . . . ?" I trailed off as my eyes widened. My jaw came unhinged and dropped as Igaped at her.
I stared at where her hand was and watched in dawned horror as she rubbed her belly in slow, steady circles.
Oh no. oh, hell to the no to the tenth power.
I started forward and then stopped. "Beth, are you . . . are you pregnant?" -Katy and Beth