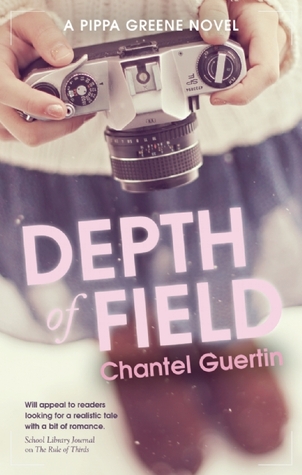 Title: Depth of Field (Pippa Greene #2)
Author: Chantel Guertin
Genre: C
ontemporary
Format: eBook
Publisher: ECW Press
Release Date: August 12, 2014
Summary:
Two weeks in New York City should be the time of Pippa's life: she's attending the prestigious Tisch Photography Camp, her boyfriend, Dylan McCutter (two months and counting!) is coming with her, and their parents are 500 miles away. Talk about lights, camera, (swoony, unchaperoned) action! But what should be 14 unforgettable days of bliss turns into chaos when her one and only nemesis, Ben Baxter, proves to be surprisingly more complex than she could've ever imagined, and her Tisch mentor, a renowned photographer, seems to have a lot more to do with her parents' past than anyone wants her to know. Is Pippa out of her depth?
That ending though, there has to be a third book otherwise that is the most craziest cliff hanger I have ever read! But I loved Depth of Field much more the The Rule of Thirds. Both books were amazing but this one really grips you.
Pippa finally made it to Tisch Photography Camp to follow her dreams of being a photographer. But instead of her best friend and boyfriend going to New York City with her plans change and she goes alone. Which isn't bad if you don't include Ben into the mix (Ben who stole her original Vantage Point photos leaving her in a scramble to shoot new ones.) Who just be happens to be attending the photography camp as well. But maybe Ben isn't there for the photography maybe he is there for something else.
I honestly feel bad for Ben. We get a look into his past and it wasn't the most easiest childhood, he grew up with out his father (a famous movie producer) and all he wanted to do was know the man. Pippa and her roommate decide to help him. I kind of questioned her motives, after all he did steal Pippa's pictures, Pippa even questioned herself at one point on why she was helping him. I feel the two grow closer in this book then they did in the first book.
I don't know what was up with Dylan. But I found it kind of fishy that he wanted to issue that two week communication ban between them. He claimed that it would make her homecoming more romantic, but still! Pipa ends up finding out news that changes her life, texts Dylan and guess what? The jerk doesn't reply. That started to put me over towards team Ben.
Now, let's add her mentor David to the mix. Yes, the same David that was her father's best friend before her father died. David is that kind of person who even though they are an adult, still want to act like a kid. Which is annoying because he neglected a lot of his responsibility when it came to being Pippa's mentor.
I really loved Depth of Field. Especially after it's ending. There are tons of questions that I need answered now!