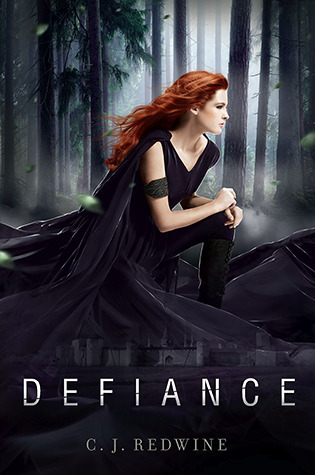 Title: Defiance (Defiance #1)
Author: C.J. Redwine
Genre: Fantasy, Science Fiction, Adventure
Format: Paperback
Publisher: Balzer + Bray
Published: August 28, 2012
Summary:
While the other girls in the walled city-state of Baalboden learn to sew and dance, Rachel Adams learns to track and hunt. While they bend like reeds to the will of their male Protectors, she uses hers for sparring practice.
When Rachel's father fails to return from a courier mission and is declared dead, the city's brutal Commander assigns Rachel a new Protector: her father's apprentice, Logan—the boy she declared her love to and who turned her down two years before. Left with nothing but fierce belief in her father's survival, Rachel decides to escape and find him herself.
As Rachel and Logan battle their way through the Wasteland, stalked by a monster that can't be killed and an army of assassins out for blood, they discover romance, heartbreak, and a truth that will incite a war decades in the making.
~~~
***Warning: This review contains spoilers***
When I placed my Book Outlet order I snagged this because I just had a feeling I was going to love it, plus it had been on my TBR shelf for over a year now. But I am mentally beating myself now for not going to the library and getting this sooner. It was so good!
Defiance was intriguing and packed with tons of action. The book starts with Rachel waiting for her father to return from a courier mission, it has been sixty days since he was last seen. The Commander is ready to declare him dead. Rachel's father left his daughter's protection in the hands of Logan, his nineteen year old apprentice until Rachel's claiming ceremony. When Rachel tries to climb the wall in search of her father she is caught, along with Logan who was trying to protect her. The commander sends them both on a mission to bring back a package that Rachel's father hid when she was on a courier mission with him. She must find it and bring it back to the Commander or he will kill the people she loves the most. The only problem is, the outside walls of Baalboden are nothing but a dangerous wasteland, where the Cursed One can attack at anytime.
Rachel isn't like the other girls. She can hunt, kill, and survive on her own. I liked Rachel a lot, especially at certain parts of Defiance I enjoyed how Rachel's emotions were portrayed. As example, when Oliver (who is like a grandfather to her) is killed in front of her. It wasn't the typical meltdown and then they were alright. Rachel was devastated and in shock. She wouldn't talk to Logan, she refused to be touched. Her reaction felt real. Rachel is defiantly on my list of favorite female heroine.
Logan was a bit frustrating at times. I felt like he was convincing himself he didn't love Rachel. He was sweet, and strong and genuinely cared about her. I gained a lot more respect for him after Rachel's experience with the Commander killing Oliver. I did like him since the beginning though.
The romance was cute. It wasn't insta-love or insta-lust. It was there in the beginning, they both were too stubborn to admit that they were in love with each other. I liked when Rachel put on her claiming dress and Logan saw her for the first time. It was like Logan was suddenly aware that she was grown up, then he got protective when the other boys would look at her. He was jealous. I loved the romance, and I can't wait to see Logan and Rachel both grow in the rest of the series.
Defiance was packed with action, adventure and romance and will keep you on your toes until the end.