Our March Debut Author is...Moriah McStay!
Amber read
Everything That Makes You
and adored it! (Her review will be coming soon!)
About Moriah
Moriah McStay grew up in Memphis, TN, where she acquired a come-and-go drawl and a lifelong love of cowboy boots and fried pickles. She attended Northwestern University and the University of Chicago. Two graduate degrees and seven jobs later, she finally figured out what she wants to be when she grows up. Everything That Makes You

is her first novel, and she's probably at home right now working on another one.
Keep in contact with Moriah on her:
And now, our interview with Moriah!

First of all, what is Everything That Makes You about?
It's the story of a girl, Fiona Doyle, who either got injured as a child—or didn't. In two parallel story lines, the story follows Fiona, whose face is badly scarred, and Fi, who never had the accident. Parts of their stories overlap—they have the same family, go to the same school—but their passions, friendships and fears are different. It's two contemporary YAs wrapped up in one.
Why do you think readers will enjoy Everything That Makes You? What makes it special?
Everything That Makes You is really about that "What if?" question. We've all wondered how life would be different if we didn't try out for that play or meet that first love or take that wrong turn. It's a universal question—and we can never know the answer. Still, it's fun to play around with the idea a little.
How does it feel to be a new author? What's scary about it? What's great?
It feels normal and surreal at the same time. Thanks to a a very supportive husband and family, I've been a full-time writer about 2 1/2 years now. Nothing's changed in my day-to-day life. But, from the outside, it looks like a career now, not a hobby. When people ask what I do for a living it doesn't feel like such a sham to say, "I'm a writer" even though that's what I've been for a while now.
It's scary opening yourself up to the criticism. Before I started writing, I could pull apart books and movies with the best of them. I'm much gentler about it now. It takes years to write a book. So much stress and love and fear goes into it, let alone time, sleepless nights and exhaustive analysis. While everyone's entitled the their opinion—and no one can create something everyone loves—I've tried to become more sensitive to the artist behind a work.
What do you think about the relationship between the blogging community and new authors?
Oh my goodness, I couldn't say enough good things here. Before my book deal, I wasn't very involved in social media or the YA internet community. It's opened up a new world to me! It's too bad that a lot of the author-blogger conversation focuses on the negative aspect. Like anything, you can find a mean, snarky side, but that hasn't been my experience so far. I've gotten sweet, gush-y requests from all over. It's been awesome. You bloggers choose to spend time talking about other people's work. I know it's because y'all love doing it, but there's a real selflessness there that doesn't get talked about much. Fangirls (and boys) rock. You make the conversation bigger.
What has been your best experience as a new author so far?
I'm going to tie this into the previous question about bloggers. I've been lucky to get lots of positive encouragement from family and friends in Memphis and beyond, but it's kind of like when your Mom tells you you're pretty. You know she believes it, but still. She's got to say that. When you get unsolicited support and positive feedback from readers and bloggers--strangers who know the industry--it's just the best feeling.
What's been your worst?
I can't think of anything really negative, honestly. All the bad comes straight from me and my neuroses. I'm training myself not to Google myself or worry about who got on which Best Reads List or who just sold rights in Romania. I've started giving myself Twitter time limits—I check it twice a day for ten minutes, otherwise I get sucked into it like a wormhole.
What's your advice for fellow debut authors?
Join the debut group! I'm a member of Fearless Fifteeners and Class2k15. The connections and friendships I've built with other '15 debut authors has been invaluable. I learned a ton, commiserated a lot, and got way more promotion help than if I'd stayed on my own.
Do you plan on writing a sequel to Everything that Makes You, or writing any other books in the future?
ETMY has always been a stand-alone, so no sequel there. I'm working with my editor Jill Davis to revise my second book for Katherine Tegen Books, another contemporary YA. It's still without a title and firm pub date, but people can check out my website for more details as they come in.
About Everything That Makes You: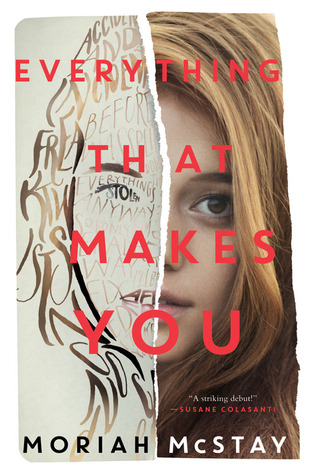 Publisher: Katherine Tegen Books
PUBLICATION DATE: March 17th, 2015
Summary:

One girl. Two stories. Meet Fiona Doyle. The thick ridges of scar tissue on her face are from an accident twelve years ago. Fiona has notebooks full of songs she's written about her frustrations, her dreams, and about her massive crush on beautiful uber-jock Trent McKinnon. If she can't even find the courage to look Trent straight in his beautiful blue eyes, she sure isn't brave enough to play or sing any of her songs in public. But something's changing in Fiona. She can't be defined by her scars anymore.

And what if there hadn't been an accident? Meet Fi Doyle. Fi is the top-rated female high school lacrosse player in the state, heading straight to Northwestern on a full ride. She's got more important things to deal with than her best friend Trent McKinnon, who's been different ever since the kiss. When her luck goes south, even lacrosse can't define her anymore. When you've always been the best at something, one dumb move can screw everything up. Can Fi fight back?

Hasn't everyone wondered what if? In this daring debut novel, Moriah McStay gives us the rare opportunity to see what might have happened if things were different. Maybe luck determines our paths. But maybe it's who we are that determines our luck.
You can find Everything That Makes You on:
****GIVEAWAY****
To help celebrate Everything That Makes You's release date on March 17th, we teamed up with author Moriah McStay to give away ONE (1) Signed Copy of Everything That Makes You plus some signed swag!