Title: Siren's Fury (The Storm Siren Trilogy #2)
Author: Mary Weber
Genre: Fantasy, Romance
Source:
NetGalley
Publisher: Thomas Nelson / HarperCollins
Publication Date: June 2nd 2015
Summary:
"I thrust my hand toward the sky as my voice begs the Elemental inside me to waken and rise. But it's no use. The curse I've spent my entire life abhorring—the thing I trained so hard to control—no longer exists." Nym has saved Faelen only to discover that Draewulf stole everything she valued. Now he's destroyed her Elemental storm-summoning ability as well. When Nym sneaks off with a host of delegates to Bron, Lord Myles offers her the chance for a new kind of power and the whispered hope that it may do more than simply defeat the monster she loathes. But the secrets the Bron people have kept concealed, along with the horrors Draewulf has developed, may require more than simply harnessing a darker ability. They may require who she is. Set against the stark metallic backdrop of the Bron kingdom, Nym is faced with the chance to change the future. Or was that Draewulf's plan for her all along?
*This review contains spoilers from Storm Siren*
The ending to Storm Siren was painful, Mary took your heart stomped on it and then ripped it into a million pieces. I will admit, because of that ending I was terrified to dive into Siren's Fury, was it going to break my heart? Was there still a possibility of saving Eogan? Mary Weber sucked me back into the world of Storm Siren, leaving me dying to know what was going to happen next.
Siren's Fury picks up right before Storm Siren ends, giving the readers a chance to relive the news of Eogan's death. It was much more painful the second time around. I can summarize the whole book for you and you are going to be like "What? That makes no sense." So I am doing this review a little differently.
This book includes:
A horrible villain

A heroine that looses a bit of her sanity'

Dark magic

Rich world building

Plot twist after plot twist

Impending war, death, and other horrible things

Growing to actually like Myles (I know, I know *shivers*)

Heart breaking decisions
I loved Nym even more in Siren's Fury, she wasn't the perfect cookie cutter heroine that you typically see in YA novels. She is determined and a bit desperate causing her to make a ton of stupid mistakes. But she learned from her mistakes through out the story, in the end her best strengths was her compassion and love for the people she cared about. It is ultimately what saves her life. It made her seem all the ore human to me.
We learn alot more about Rasha and Myles in this book. I adore Rasha, in all honesty I wouldn't even mind if Mary wrote a spin off all about her. I loved getting to see her and Nym's friendship flourish through out the entirety of this book. Myles is still the same, disgusting creep he was in Storm Siren, only this time around he wants to ''help" Nym save Eogan and Faelon. Myles is simply poweer hungry and the thought of a payout in the end is the only thing that actually keeps him going.
Siren's Fury started off slow and I began to loose interest. At about the half way mark things began to pickup and I didn't want to put it down. The world building is heavy, but necessary for the reader to know in order to understand what is happening. Mary is able to build Nym's world with out making the reader bored and want to put the book down.
Overall, I LOVED Siren's Fury, and now eagerly awaiting news on book three!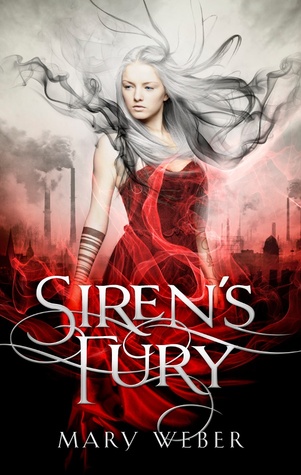 Mary Weber is a ridiculously uncoordinated girl plotting to take over make-believe worlds through books, handstands, and imaginary throwing knives. In her spare time, she feeds unicorns, sings 80's hairband songs to her three muggle children, and ogles her husband who looks strikingly like Wolverine. They live in California, which is perfect for stalking L.A. bands, Joss Whedon, and the ocean. Her debut YA fantasy novel, STORM SIREN, is available now in bookstores and online, and SIREN'S FURY (book 2 in the trilogy) will be out June, 2015 from TN HarperCollins.