This month for our May Debut Author Spotlight, we're spotlighting debut author Temple West and her upcoming novel,
Velvet
, that will be released later this month. (We both read
Velvet
and really enjoyed it - you can check out Jessica's review
here
!) Temple also allowed us to conduct a brief interview and reveal an excerpt of the story...
plus,
we have
an awesome giveaway!
About Temple West
Temple West, debut author of the YA paranormal romance Velvet, is as nerdy in real life as she is on the Twitter. Armed with a very shiny English degree, she spent four months in Oxford holed up at the Radcliffe Camera amongst the hush of ancient books and the rich musk of academia. Returning to Los Angeles, she acquired a concurrent degree in film, mostly as an excuse to write essays about The Princess Bride and Hook. She can sew (poorly), drive stick (please fasten your seatbelt), and mostly lift her feet off the ground while stuttering into first gear on a very small motorcycle. She currently lives in Seattle and is the proud mother to a one-year-old laptop and a vintage Remington typewriter.
Keep in contact with Temple Through Her:
Now, our interview with Temple!
First of all, what is Velvet about?
On its surface it's obviously about vampires and first love and all that good stuff, but more importantly it's about that transition you start making at the end of high school from "the world owes me something because I'm a kid" to "I'm taking control of my life because I'm an adult." This first book especially has Caitlin really struggling with who she wants to be: a victim, or a hero.
Why do you think readers will enjoy Velvet? What makes it special?
I think -- and a lot of the reviews of the book so far support this -- that the mythology is unique. Yes, there are vampires, yes it's set in high school, but beyond that the world sort of spins off into new territory, and I think that will be refreshing. Also (and I'm obviously biased here) it's got some pretty darn good banter.
How does it feel to be a new author? What's scary about it? What's great?
How about everything? Ha! I never had prom at my school, but I think it would be similar to suddenly finding out you're Prom Queen. Like, it's awesome, it's an honor, but you have to get up in front of everybody and you know that they're going to be judging your dress and your make up and your manicure and your shoes to see if you really deserve to be Prom Queen. Basically a hot mess of exhilaration and terror.
What do you think about the relationship between the blogging community and authors?
Dude, bloggers are the lifeblood of modern publishing. You can market your book all you want, but if there aren't bloggers on the street (so to speak) reviewing your work, it's dead in the water. Bloggers are an essential part of an author's career, and I've been incredibly blessed to start to get to know the book blogging community, which I honestly didn't know existed before I became an author.
What's been your best experience as a new author so far?
By far, my favorite part of being an author is seeing people respond to the story. l love it when people Tweet to me or e-mail me quoting their favorite lines or talking about their favorite moments or relationships, or how they can't wait for book two. It's like Christmas morning every time!
What's been your worst experience?
Well, I mean the really negative reviews are pretty hard to read. And it's not because I think my writing's perfect -- I know I have a lot to learn and I absolutely want to improve as a writer. It's more when the reviews are unnecessarily mean-spirited or harsh. The good thing is, though, that most of the reviews have been incredibly positive and when there is criticism, it's delivered respectfully. There have been one or two outliers that I've decided I'm not going to read again, though, for my own well-being.
What's your advice to fellow debut authors?
I don't know that I have any writing advice for fellow debut authors -- obviously they're on the right track if they're being published! I think the one piece of advice I can offer is that a debut author especially should be proactive about their own marketing. Of course your publisher is going to be doing most of the heavy lifting, but it's really important for an author to have an online and social media presence: an author website or book website, Twitter, Tumblr, etc. Getting your book published is only half the battle.
Lastly, will Velvet have a sequel? If not, do you plan on writing anything else in the future?
Absolutely! It's actually going to be a trilogy! I'm also working on a couple of screenplays right now, but there will definitely be two more books in the Velvet series. I'm so excited to continue working with Caitlin and Adrian!
About Velvet: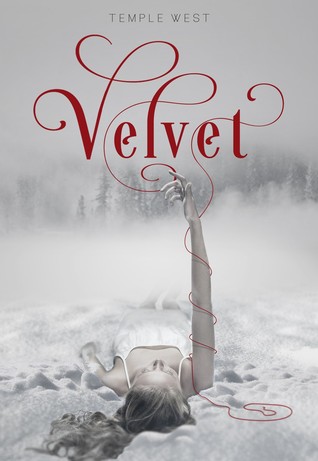 Publisher: Swoon Reads
Page Count: 416 Pages
EXPECTED PUBLICATION DATE: May 12th, 2015
Summary: First rule of dealing with hot vampire bodyguards? Don't fall in love.

After losing both her parents before age seventeen, aspiring designer Caitlin Holte feels like her whole world has been turned upside down, and that was before the terrifying encounter with a supernatural force. Then, she learns that her hot bad-boy neighbor, Adrian—who might have just saved her life—is actually a half-demon vampire.

Suddenly Caitlin is stuck with a vampire bodyguard who feels that the best way to protect her is to become her pretend boyfriend. Trouble is, Caitlin is starting to fall in love for real, while Adrian can never love a human. Caitlin trusts Adrian to keep her safe from his demon father, but will he be able to protect her heart?
Velvet Special Excerpt:
My head cleared instantly. I could blink, I could breathe. The pain was gone, but with it went my entire sense of self. On some deep, subconscious level I knew I was still real -- I knew I had a name and a family and a purpose in life, aimless as it was -- but surface-level me believed that I'd winked out of existence. I didn't think I was dead, exactly. I simply believed that I had never been.
Hunched over me, the stranger flinched, once, and shivered, but I didn't think it was from the cold. In fact, the pouring rain was steaming off his skin like he was burning hot. Above us, the night-black clouds pushed closer, crowding out the sky. Looking around, as if expecting once again for someone else -- or something else -- to be waiting in the shadows, he scooped me up effortlessly and sprinted off into the darkness. I tried to grab hold of his shoulder, but none of my limbs were working. I was weak, pure dead weight, but he had no problem hauling me at a full rub through the impossibly dark trees.
It could only have been a few minutes later that my aunt and uncle's ranch appeared out of the darkness. At the end of the trial that led into the backyard, the stranger stopped for a moment and looked down at me, eyes flickering like a lightbulb from gray to molten silver. I tried to look away, but it was too late. I was caught in the light.
It could only have been a moment, but when I opened my eyes, I had no idea who was holding me, or why I was in the rain, or why I was outside at all. All I knew was that I wanted to be warm, and I wanted very much to fall asleep. The man kicked urgently at the front door of my aunt and uncle's house until it opened.
I remember my aunt yelling, "Caitlin!"
And then I passed out, and didn't remember a thing.
You can find Velvet on:
***GIVEAWAY***
To help celebrate Velvet
's release on
May 12th
(and also to help celebrate debut author Temple West herself!), we're giving away a SIGNED copy of
Velvet
, courtesy of the author herself!
We'd like to thank author Temple West for accepting our offer to be our May Debut Author Spotlight, as well as another huge thank-you for taking part in our interview and giveaway! <3 <3 <3
\