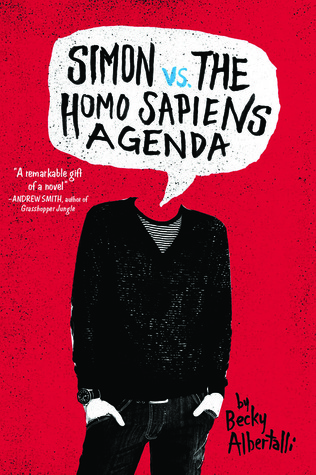 Title: Simon vs. the Homo Sapiens Agenda
Author: Becky Albertalli
Rating: 4/5 Stars
Hardcover, 303 Pages
Published April 7th 2015
Publisher: Balzer + Bray
Add it to Goodreads!
Summary:

Sixteen-year-old and not-so-openly gay Simon Spier prefers to save his drama for the school musical. But when an email falls into the wrong hands, his secret is at risk of being thrust into the spotlight. Now Simon is actually being blackmailed: if he doesn't play wingman for class clown Martin, his sexual identity will become everyone's business. Worse, the privacy of Blue, the pen name of the boy he's been emailing, will be compromised. With some messy dynamics emerging in his once tight-knit group of friends, and his email correspondence with Blue growing more flirtatious every day, Simon's junior year has suddenly gotten all kinds of complicated. Now, change-averse Simon has to find a way to step out of his comfort zone before he's pushed out—without alienating his friends, compromising himself, or fumbling a shot at happiness with the most confusing, adorable guy he's never met.
I'm going to start of my review by saying that everyone, whether you're a big fan of contemporary YA or not, needs to read this book. If you read the description of the book and immediately zero in on the word gay and think to yourself "I just really don't want to read an entire 300+ pages about some teenage kid unsure if he's gay or not", you're wrong. That's not primarily what this book is about.
Simon is about a high school junior who is, yes, gay, but the main focus of the novel is the fact that he met this anonymous boy through his school's Tumblr account, and they have been emailing in secret for quite some time. Simon feels such an amazing connection and overwhelming love for him, and their relationship is beyond perfect. The only problem? They don't know who they're each talking to. They use anonymous email addresses and secret names. The only things they do know is that they both go to the same school and they're in the same grade. Which just about drives Simon crazy.
I mean, imagine if you fell in love with this guy online and knew you see him just about every single day in school but you don't know who he is. And he refuses to tell you.
Oh, boy.
My favorite part of this book was Simon's cynical, sarcastic nature. His commentary throughout the entire book had me laughing out loud and Albertalli paints the perfect picture of a teenage boy's mind - I was able to see everything through Simon's eyes and it just made total sense. That isn't very common for me when reading from the male perspective - it's usually much harder for me, being a girl and all. But in Simon, I fit right in and wasn't lost for even a second. So hats off to Albertalli for that!
So throughout the whole book, Simon and Blue (the alias for his mysterious pen pal) exchange emails about one another (and their conversations are absolutely adorable, by the way) and Simon navigates his junior year of high school while he's being blackmailed by Martin - because Martin just so happened to find Simon's emails on a school computer and told Simon he wouldn't leak them (and leak the fact that Simon was gay, because that wasn't public knowledge) as long as Simon hooked Martin up with Simon's best friend, Abby. So yeah, there's a lot of blackmail going on in this book. But halfway through, Martin starts to grow on Simon, even if he's threatening to ruin his life. But then Martin makes one mistake that he can't take back, and things take a wild turn.
And let me just say...Blue is not who you would expect him to be. And it turned out to be one of the most epically awesome plot twists ever.
All in all, Simon vs. the Homo Sapiens Agenda was a hilarious book about coming to terms with yourself and the lives of all of the people around you - but with a touch of hilarity that made it seem that much more realistic. I'm extremely impressed with debut author Becky Albertalli and I'll definitely be reading more of her work in the future!
Rating: