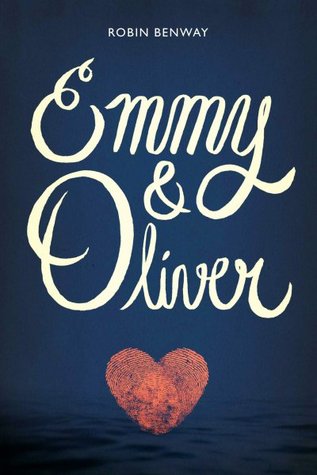 Title: Emmy & Oliver
Author: Robin Benway
Rating: 5/5 Stars
Expected Date of Publication:
June 23rd, 2015
Paperback, 342 Pages
Publisher: HarperTeen
Add it on Goodreads!
Summary:

Emmy's best friend, Oliver, reappears after being kidnapped by his father ten years ago. Emmy hopes to pick up their relationship right where it left off. Are they destined to be together? Or has fate irreparably driven them apart?

Emmy just wants to be in charge of her own life.

She wants to stay out late, surf her favorite beach—go anywhere without her parents' relentless worrying. But Emmy's parents can't seem to let her grow up—not since the day Oliver disappeared.

Oliver needs a moment to figure out his heart.

He'd thought, all these years, that his dad was the good guy. He never knew that it was his father who kidnapped him and kept him on the run. Discovering it, and finding himself returned to his old hometown, all at once, has his heart racing and his thoughts swirling.

Emmy and Oliver were going to be best friends forever, or maybe even more, before their futures were ripped apart. In Emmy's soul, despite the space and time between them, their connection has never been severed. But is their story still written in the stars? Or are their hearts like the pieces of two different puzzles—impossible to fit together?
I received an ARC copy of Emmy & Oliver through HarperTeen, and I'm honestly SO glad that I did. The summary itself gripped me from the very beginning, because it's not anything I've ever really read or even heard of before - a young teen boy being kidnapped by his own father ten years ago, and his best friend having to endure those ten long years without him...and then when he comes back, things are definitely not the same.
Robin Benway impressed me right off the bat. Emmy's wit and her hilarious banter with her overprotective parents kept me laughing the whole time. Ever since Oliver's disappearance, Emmy's already strict parents tightened the reins even further - to the point that Emmy knows they'd go nuclear if they found out she had been sneaking out behind their backs and surfing every weekend for the past three years. To make matters worse, they're not encouraging her to go away to college because they don't want her out of their sight - but Emmy may or may not have already taken a leap of faith that could take her far, far away from their strict (but loving) ways.
Oliver's return felt so real to me - I feel like I was expecting it to be cheesy and unrealistic. I was expecting Oliver to jump out of the car, recognize Emmy, smother her with kisses and then be the king of the town while everyone rejoices his arrival and welcomes him back with open arms.
But that wasn't what happened, which made it so great. I won't spoil anything and go into too much detail, because this is definitely the kind of book that I encourage you to pick up yourself, but Oliver comes back to his original home and barely remembers his own mother (and never met her new husband and children), let alone Emmy.
Imagine how shattered you would be if your childhood best friend came back and basically stared at you and admitted that they barely had any idea who you were. Yeah, ouch.
This book was just downright fantastic. My feels were all over the place - I was cheering on Emmy and Oliver, groaning at Oliver for not remembering any of their childhood memories, and just getting all up in the action. (There are some minor spoilers in the rest of this paragraph, so feel free to skip on over to the next one if you don't want anything ruined for you.) The romance that blossomed between Emmy and Oliver made me swoon SOOO hard. Seriously. I couldn't stop smiling for the entire book, except for the parts when Oliver was open and deep about all of the stuff that went on with him during his ten years of abduction - although he never truly saw it as an abduction.
Like I said before, the plot of this book is a little hard to wrap your mind around - a book where a boy gets abducted by his own father for ten years - but nothing terrible happens to him. To Oliver, he never saw the abduction as an actual abduction, since his father spent those ten years telling him that his own mother didn't want to see him anymore, when the real story was the exact opposite. So it was interesting seeing how everyone reacted when Oliver returned, treating him like he survived some horrible, painful torture while he was kidnapped - when in reality, those ten years were some of the best of his young life.
All in all, Emmy & Oliver was such a fantastic book that I would recommend to anybody looking for a little romance and the facing of tough trials. The ending of the book absolutely punched me in the feels (although I won't say if it was in a good or a bad way - read it yourself to find out!), and I loved the entire thing, through every single chapter, sentence, line and word. Absolutely in love. This book definitely ranks high up in my favorites of 2015 so far - and I have a great feeling that this book will definitely be showing up at some point for our end of the year 2015 Best Books Awards, in a category or two (or three, or four). ;-) Robin Benway did a fantastic job, and I can't wait to read more of her work in the future!
Rating:
DISCLAIMER: I received an ARC copy of Emmy & Oliver through HarperTeen in exchange for an honest review. Neither HarperTeen nor author Robin Benway received this review in any format prior to its publication on the 29th of May, 2015. All opinions expressed in this review are entirely my own.