Welcome to the first post of the 2016 Summer Blogger Promo Tour! This is a summer-long event we created to find a way to promote a whole bunch of new bloggers while also making a bunch of new friends. If you're interested in learning more about how the tour works, you can click here!
Today I'm here with Flo from Book Nerds Across America, and she has a guest review for Attachments by Rainbow Rowell! Without further ado, here is her guest review and introduction!
About Flo:



Hi! *waves*

Flo

here. I am co-founder of Book Nerds Across America and...well...I'm a Book Nerd! When I was a little girl, my Mom literally took me aside one day and said, "...maybe you read TOO much?!" Yeah. True story. I devoured Lurlene McDaniel, R.L. Stine, Christopher Pike, John Grisham, Michael Crichton. Fast forward to today, and you'll get a girl who devours most anything YA and certainly anything that keeps my attention! I love falling into a book, where all I want to do with myself is read it. I love cute, quirky fictional YA guys. I literally need a new bookshelf, because my apartment is being overrun by books. Like Mary, I am a staff member member of

Down With The Capitol

and co-host of

Haymitch Happy Hour

. You can follow me on Twitter at

@FloeticFlo

.
And now, onto her review!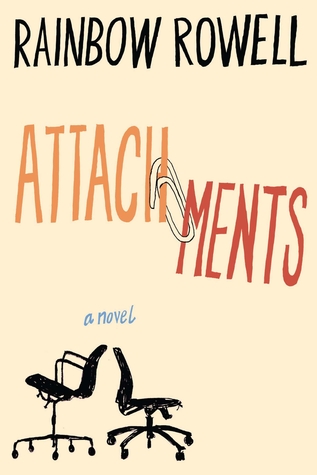 Title: Attachments
Author: Rainbow Rowell
Publisher: Dutton
Summary:

Beth Fremont and Jennifer Scribner-Snyder know that somebody is monitoring their work e-mail. (Everybody in the newsroom knows. It's company policy.) But they can't quite bring themselves to take it seriously. They go on sending each other endless and endlessly hilarious e-mails, discussing every aspect of their personal lives.

Meanwhile, Lincoln O'Neill can't believe this is his job now- reading other people's e-mail. When he applied to be "internet security officer," he pictured himself building firewalls and crushing hackers- not writing up a report every time a sports reporter forwards a dirty joke.

When Lincoln comes across Beth's and Jennifer's messages, he knows he should turn them in. But he can't help being entertained-and captivated-by their stories.

By the time Lincoln realizes he's falling for Beth, it's way too late to introduce himself.
Oh my gosh, you guys! Oh. My. Gosh. Be prepared for a full-on gush fest!!
I was lucky enough to meet Rainbow Rowell for the first time at YALLFEST two or three years ago? I didn't have any of her books at the time, so I bought Attachments because I needed something for her to sign. I stood in a forever long line, which ended up being worth it because Rainbow is incredibly nice, and then put the book on my shelf. Fast forward to late last year, when I found the audiobook on sale. I jumped on it, because I have been wanting to read this story, and I figured having the CDs would move it up on my TBR. It did; I needed something new to listen to in the car and suggested we make this February's read along. And here we are.
It's been a minute since I've loved a book as I love Attachments, and it's such a great feeling. (I think book nerds strive for that feeling, amirite?!) There were countless times I was laughing out loud when I was driving, because of something Beth or Jennifer said. I'll come back to those two in a minute. I think the reason I loved this book so much was that I could put myself in this book in so many ways. For starters: the late 90s! I loved loved loved all the late 90s references! The movies, the actors, the songs. I was only a few years younger than Lincoln, Jennifer, and Beth in 1999, so I was completely feeling everything. I remember clearly the whole Y2K scare and how nervous everyone was leading up to it.
I love YA books, but I think another reason I loved this so much was because the work environment in this book is so similar to mine. So similar. I work in book publishing, they work at a newspaper. I was a journalism major in college, too, so I was, again, completely feeling and understanding everything going on around the newsroom. And I was especially feeling the email conversations between Jennifer and Beth. I have a co-worker and honestly, our conversations remind me of Jennifer and Beth's! Definitely not as frequent or as long, and she's in another office in another state so I've never met her, but we have some fun and funny and silly exchanges. Sometimes they are the only thing that keep me going a full 8 hours sitting at my desk. I cannot tell you how many times I thought that a conversation that Jennifer and Beth was having would be just the kind of thing I'd be commenting on with my co-worker!
And, of course, I have to gush over Lincoln. First and foremost, this story was about him growing up and becoming the man he wants to be. So many of us have hit that point in our lives when we look around and take stock of where we are, what we are doing -- and realize we may not be where we want to be. But how do you change your entire life? You do it bit by bit. You do it in small, courageous steps. This is what Lincoln did. His change was realistic, and and I really appreciated it. It wasn't, "My life sucks so I am completely changing everything tomorrow!" Yes, some people do that. But more realistically, it happens bit by bit, and with all the angst and contemplation that Lincoln gave it.
A good contemp has strong characters populating the story, and everyone here was fantastic: Doris, Lincoln's Mom, Eve, Justin -- everyone.
Finally, the love. *sighs* Christine says it right out, the idea of someone falling in love with your personality without knowing what you look like is swoontastic. (Yes, I said "swoontastic.) And there are two scenes I can think of that are just absolutely perfect. Just perfect.
I'd like to thank Flo for such a great review and for introducing herself for the Summer Blogger Promo Tour! Check back next week for an interview with another blogger!