"Waiting On Wednesday" is a weekly meme hosted by Breaking The Spine where we highlight some of the upcoming books we can't wait to read!
Amber's Waiting On: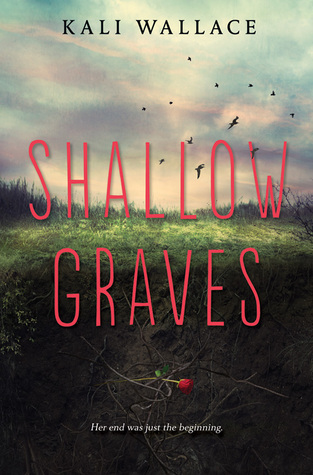 Title: Shallow Graves
Author: Kali Wallace
Genre: Paranormal
Publisher:
Katherine Tegen Books
Publication Date:
January 26th 2016
Breezy remembers leaving the party, the warm, wet grass under her feet, her cheek still stinging from a slap to the face. But when she wakes up, scared and pulling dirt from her mouth, a year has passed and she can't explain the necklace of bruises around her neck. She also can't explain the man lying at her grave, dead from her touch. Returning home seems impossible. Her parents and sisters have clearly grieved and struggled to move on, and Breezy can't begin to answer their inevitable questions. Her heartbeat comes and goes, she doesn't need to eat or drink, she can see the inky memories of murderers, and she can somehow pull on this dark guilt to kill them. Haunted by the happy memories from her life and disgusted by the half-dead creature she's become, Breezy embarks on a reckless quest to find answers and a dangerous healing magic…but the cure is as dark and terrible as the disease. Set in a gorgeous, terrifying world, Shallow Graves is a stunning novel about the heartbreaking trauma of a girl's life cut short and her struggle to reconcile her humanity with the creature she's become.
First, look at the cover. All the colors and the font and everything. Immediately it caught my eye in a sea of 2016 debuts. Second, all I am thinking is zombies. On Goodreads it has been shelved as that so it is a very promising sign!


Jessica's Waiting On:
Title: Nothing Bad is Going to Happen (No One Else Can Have You, #2)
Author: Kathleen Hale
Publisher: HarperTeen
Publication Date: January 5th, 2016
Summary: After catching her best friend's murderer a few months ago, Kippy thought the worst was over. Then she found her boyfriend at home, barely breathing and clinging to life. The sheriff insists it was a suicide attempt, but Kippy refuses to believe it. Given everything that's happened to her, she wonders if something more sinister is going on. Without any evidence, no one will listen to her—except maybe her former nemesis. But in a town where everyone has their secrets and a next-door neighbor could be a serial killer, you take all the help you can get.
Author Kathleen Hale sent Amber and I ARC copies of No One Else Can Have You back when we had just been starting out as a blog - barely even a month or two in. Even when the publisher wasn't giving us any recognition, she took the time to give new bloggers a chance, and for that I've always been grateful. I really enjoyed No One Else Can Have You and I'm itching to get my hands on a copy of this book!
What are you waiting on this week? Leave your link in the comments down below so we can stop back!