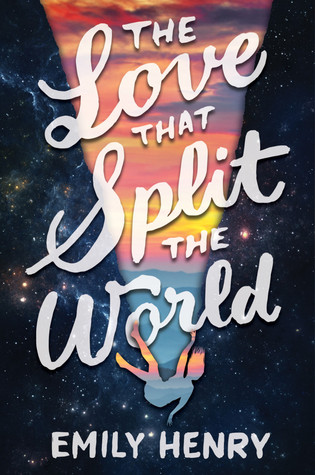 Title:
The Love That Split the World
Author: Emily Henry
Publisher: Razorbill
Rating: 4/5 Stars
Hardcover, 390 Pages
Publication Date: January 26th, 2016
Add it on Goodreads!
Summary: Natalie Cleary must risk her future and leap blindly into a vast unknown for the chance to build a new world with the boy she loves.

Natalie's last summer in her small Kentucky hometown is off to a magical start... until she starts seeing the "wrong things." They're just momentary glimpses at first—her front door is red instead of its usual green, there's a pre-school where the garden store should be. But then her whole town disappears for hours, fading away into rolling hills and grazing buffalo, and Nat knows something isn't right.

That's when she gets a visit from the kind but mysterious apparition she calls "Grandmother," who tells her: "You have three months to save him." The next night, under the stadium lights of the high school football field, she meets a beautiful boy named Beau, and it's as if time just stops and nothing exists. Nothing, except Natalie and Beau.
We received an ARC copy of this book from Razorbill, and I was super excited about it. Not only is the cover of this book absolutely beautiful and fantastic and it draws you in right away, but the actual summary was something different that I've never heard of before. Also, that title - The Love That Splits the World - lets you know that whatever story you're about to delve into has a pretty epic love component.
So as the summary explains, this book is about a high school senior named Natalie who has been plagued with night terrors and visions and some mental issues for most of her life. Therapists refuse to believe that the things that she sees are actually real, and the fact that nobody takes her seriously doesn't help matters by any stretch. In addition to those problems, Natalie was also adopted when she was only eleven days old, so she has to deal with the existential crisis that is actually pretty common for many adopted children - the whole Who am I and where do I fit in in this world? dilemma.
And on top of that stuff, Natalie also meets a super-hot guy named Beau (more like BAEu ;-) -- that was a terribly terrible joke and I feel like a suburban dad now and I'm sorry ), and there's only a slight dilemma with their budding relationship...but I won't tell you what it is! You have to read the book yourself to see!! ;D
I actually really enjoyed this book. It took me quite a while to read because I picked it up right as I was finishing up the two most important college applications I had to do, so I didn't get much reading time. But just the other day I forced myself to sit down and make time to read, and I tore through this book because it's just so awesome!
I really liked Natalie as a character (and the same with Beau whenever they were having conversations together). She was witty and funny, and her banter between other characters in the book reminded me a lot of Emily Henry herself, which was pretty cool. I love when an author's personality starts to shine through in their writing!
Now it's time for me to dedicate this entire paragraph to Beau Wilkes because he's funny and super attractive and sweet and I definitely was shipping him and Natalie the entire time. Some of the things he said to her at times just made my heart want to explode and I was like oh my gosh this is just so adorable I want a love like this I can't take it!!!!!! So yeah. (I'm still cringing over my "BAEu" joke and now I'm embarrassed and just want to throw my laptop - and myself - out the nearest window.)
Okay so this paragraph is about to have MAJOR spoilers so I don't recommend reading it if you haven't read this book yet! Skip to the next paragraph if you don't want things spoiled for you! Okay so first of all, once you actually find out what's going on with Natalie and Beau and their whole split-between-two-worlds thing, it's pretty mind-boggling. When Alice is trying to explain stuff to Natalie (and then in the end when Grandmother is explaining the entire thing to Natalie), I felt my eyes glaze over a few times in confusion. I definitely had to go back to reread some things because it was a lot of science talk about wormholes and time slips and looking forward and backward and the tugging of time and just so much stuff that I was definitely a little confused. I would definitely have been able to understand a lot more of what the actual scenario was if there was a lot less of an explanation - if that makes any sense. Sometimes less is more, and that's the only problem I had with this book.
Skip to the next paragraph because there's still a major spoiler or two in this one! Okay so now it's time to talk about that ending - WHAT THE HELL?!?!?!?!?!?!?! Emily Henry definitely nailed the art of a successful sucker-punch ending and a massive cliffhanger. Natalie just chooses to die - and then what? You can kind of tell that she ends up with Beau, but I feel like a lot my questions went unanswered that I'm just dying to know the answer to. What world do they end up in? What happens to Natalie's family in her world and everyone that knew her? How the HECK did a new world get born because Natalie got hit by a car and how did she become the Chosen One that would help the new world be born?! Why did Matt die?!?! Oh my god I was left with so many questions but the ending was still epic so that was totally okay.
All in all, The Love That Split The World was a riveting read about love, loss, and a little bit of awesome fantasy/science fiction that may be a little hard to wrap your brain around. I enjoyed every second of this book and I'll definitely be reading more books from debut author Emily Henry in the future! This is definitely a great 2016 debut to start the year off with, so I recommend grabbing yourself a copy ASAP! :-)
Rating: